I am a gamer myself I have some friends who are notorious gamers. All they talk about is new, cool games and gaming strategies. So I was thinking about some gifts for gamers, did a little online research and the results can be seen in this post.
Usually gamers have a more developed sense of humor than other people. This is why I think the gifts for gamer should be fun and games related.
The first idea is to get them a new game. Find out what they are playing and get them the newest version. You will have to preorder the game and even if you spoil the surprise you should tell the gamer that you ordered the game for him/her. You should tell the gamer about the gifts because avid gamers order new games when they are released. It is no fun to offer a game she/he already has or just ordered.
The second idea is to offer fun water bottles. I like this bottles a lot because they are fun and I think they are the perfect match for a gamer. Below you can see my favorite models.
#1. + 100% Health // Magic stainless water bottle 1.0L
Most gamers need to replenish their health in games and I think this bottle is a perfect gifts. They can drink and restore health.
#2. 100% Power stainless water bottle 1.0L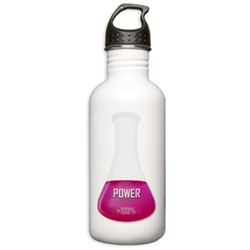 Another funny water bottle for a gamer. Perfect for the moments when you need extra power.
#3. 100% Luck stainless water bottle 1.0L
This gift is not only for gamers because we all need a little strike of luck from time.