No7 is very appreciated by women, so you can get for her the No7 Ultimate Collection.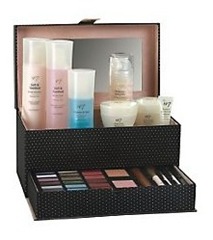 Created by No7's dedicated skincare team, all No7 products are still hypoallergenic, using trusted ingredients.
No7 Ultimate Collection Includes:
No7 Soft & Soothed Gentle Cleanser 200ml.
No7 Soft & Soothed Gentle Toner 200ml.
No7 Cleanse & Care Eye Make-up Remover 100ml.
No7 Essential MoistureTM Day Cream 50ml.
No7 Essential MoistureTM Night Cream 50ml.
No7 Heavenly Hydration Moisture Mask 100ml.
No7 Protect & Perfect Intense Beauty Serum 5ml.
No7 Stay PerfectTM Eye Shadow Colours – Lilac Sky, Island Sea, Khaki, Silver Lining, Truffle, Midnight Blue, Emerald, Innocence.
No7 Stay PerfectTM Eye Shadow from Palettes Organza light shade, Romantic medium and dark shades, Beside The Sea dark shade.
Eye Shadows 12g total.
No7 Sheer Temptation Lipstick – Attract, Entice.
No7 Moisture DrenchTM Lipstick – Waterlilly, Cameo, Red Carpet, Highland Mist.
Lipsticks 7.2g total.
No7 Natural Blush Cheek Colour – Soft Damson, Honey 10g.
No7 Extreme Length Mascara 7ml.
Brush Set.
Jewellery Case.
No7 Ultimate Collection cost £40.00 and it is available at Boots.com.