With International Star Wars Day (May 4th) rapidly approaching and excitement building around JJ Abrams' forthcoming film Star Wars Episode 7: The Force Awakens, the anticipation is almost getting too much for some fans.
The buzz about Abrams means he is even being considered as a contender for a Best Director Oscar at 2016's award. Major betting apps aggregator Betfair have the director at 6/1 for the award at the time of writing and the bookmaker's app will let you place a bet at the price you want.
However, Star Wars fever is not just concentrating on Abrams. Indeed, there is plenty of merchandise to accompany the film series. You can get almost anything you could imagine. Some of them you will not believe! Here, we take a look at the perfect gift ideas for the Star Wars fan in your life.

Lightsaber Chopsticks:
Want to add the force to your Chinese takeaway? Look no further than these Star Wars Chop Sticks. Officially licensed by Lucasfilm, these noodle grabbing chopsticks are fashioned to resemble the weapon of the Jedi, the lightsaber. You can choose from Darth Vader Red, or if you are feeling more on the light side, Luke Skywalker blue. Definitely more elegant than a clumsy knife or spoon, you will be the envy of the cantina when you whip these bad boys out of your lunchbox.
Boba Fett Bath Robe:
Everyone's favourite bounty Hunter, Boba Fett, is definitely one of the coolest characters in the series. And what could be cooler than this awesome bath robe? If your tatty old bathrobe seems to have turned to the dark side, why not get a Star Wars robe instead? This soft fleece bathrobe features satin and embroidered detailing that matches the panels of Boba Fett's armour! A great Star Wars gift.
by ShedBOy
Star Wars Narrow Necktie:
It is generally no longer cool to wear gaudy cartoon / comedy ties to the office. However, you can still show your love for Star Wars around your neck without ruining your prospects of promotion with these tastefully rendered silk Star Wars skinny ties from Japanese manufacturer Kotobukiya. Some of the neckties feature Stormtrooper helmets hidden amongst plaid, others substitute Death Stars and exploding Alderaans for polka dots.
Han Solo Ice Cube Tray:
Bored with ordinary ice cubes? Then check out the Han Solo frozen in Carbonite silicon ice cube tray! Perfect for your Star Wars parties, the silicon tray is both heat and ice resistant. Create your own ice, chocolate and jelly in the shape of Han Solo as seen in the Star Wars movies "The Empire Strikes Back" and "The Return Of The Jedi".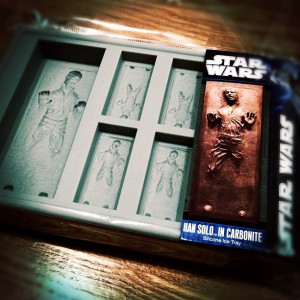 by killin