Finding gifts for friends and family can be even more of a challenge if they are prone to allergy. This means that you can't just purchase the first random thing you find because you feel lazy. Choosing your present would require a little more time and effort than your usual gift buying spree. If you're not sure what to buy, here are a few practical ideas to tide you over.
Organic Clothing
There a lot a allergy triggers and for some, especially those with very sensitive skin, one of the triggers can the the very clothes they wear. When buying clothing for allergy sufferers, choose 100% silk or if it's a little too pricey for you budget, you can opt for organic cotton. You can also wash the clothes you're planning to give to your friend first, this way you can be sure it is free from dust mites, especially if it has been on display in a boutique for some time.
Organic Skin Products
Those with very sensitive skin and suffer from skin conditions like eczema or psoriasis, to name a few, will benefit from your gift if you decide to choose organic skin products. Allergies aren't only limited to dust mites and pollen allergies. You also have to keep in mind other allergies like dermatitis or rosacea. Organic skin products work as a gift because it is more natural and the less chemicals they contain, the less harsh they are on skin. Select fragrance-free products if your friend also has fragrance allergies.
Hypoallergenic Jewelry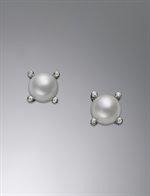 image from Davidyurman.com
I have been blessed to have no allergies when it comes to wearing accessories. I have a cousin though who is allergic to fake jewelry, which is why fancy or costume pieces don't suit her. It's probably because of the nickel found in accessories that triggers her allergies. If you're planning to give jewelry to an allergy prone person, make sure it's hypoallergenic. Sterling silver is a good choice when choosing jewelry because it is almost purely metal with only a small percent of other metals, which is usually zinc or not copper. It does not contain nickel, which makes it a perfect present for those with jewelry allergies. If you're wondering what accessory to choose, you can browse through sites like David Yurman, which has a jewelry range made of sterling silver.
Vacuum Cleaner
Dust mite allergy is a type that many of those who have allergies, suffer from. A really useful gift that can help them minimize allergy attacks is a vacuum cleaner. But not just any model. It has to be personalized with features that are geared towards allergy sufferers. It should have a strong suction to enable to pick up not only every speck of dust but also allergens like molds and pollen. It should also have a good HEPA filtration system. Another feature you can choose between is the bagless and bag designs of vacuum cleaner. If you have your friend has a pet, then the vacuum cleaner you should pick for her should include the capability to pick up pet hair as well as pet dander. Pet dander is another trigger that can launch an allergy attack.
Based in San Diego California, Tiffany Matthews is a professional writer with over 5 years of writing experience. She also blogs about travel, fashion, and anything under the sun at wordbaristas.com, a group blog that she shares with her good friends. In her free time, she likes to travel, read books, and watch movies. You can find her on Twitter as @TiffyCat87.