Sending flowers remains one of the most popular gifts in the world. Receiving flowers is always a good bet if you want to brighten someone's day and, of course, choosing just the right arrangement can be the biggest challenge of all. Some people select flower options they choose time and time again, while others like to try to select flowers and color arrangements which convey a certain message. So what do your floral choices say about you?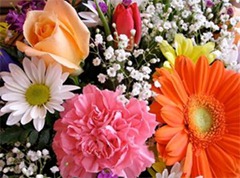 Carnations – It's All in the Color
Carnations are relatively inexpensive, easy to find, last a long time and remain one of the most popular flowers all over the world. Red carnations can be used to express deep and eternal love – the darker the color, the more intense the feelings. But carnations can also be used to convey a wide range of emotions. Yellow carnations can be used to represent unrequited love, while purple carnations represent an impulsive love.
Pink carnations on the other hand have become almost synonymous with a Mother's love and are especially popular on both Mother's Day and Grandparent's Day. Those who choose carnations as the centerpiece of an arrangement enjoy a wide range of emotions and acknowledge that love comes in many shades. The yellow rose of unrequited love, for example, can eventually be paired with a light red carnation should that love finally be returned. The pairing of these two simple flowers can, in effect, tell the love story of one who has pined for another for a long time before eventually winning their love.
A Rose by Any Other Name
Roses have become nearly synonymous with love and the sale of roses skyrockets around Valentine's Day each year. While those who give roses are seen as being traditionally romantic, the problem with a rose heavy bouquet is that, to some, it shows too much of a reliance on tradition. Often, modern bouquets and arrangements which focus on roses will also incorporate other flowers in order to show a more diverse color spectrum as well as rounding out the arrangement as a whole. This can turn someone who might have been seen as conventional and conservative into someone who can be seen as having a respect for tradition but wanting to add a modern twist.
The Simple Daisy
The daisy was named after the Anglo-Saxon term daes eage or 'day's eye' and is meant to represent the sun as the flower opens and closes at the beginning and end of each day. Daisies have traditionally symbolized a time of innocence and purity. Their inclusion as focal point in a bouquet or arrangement plays on this idea of purity. Daisies are meant to remind us all of simpler times. Quite often they are featured prominently in springtime weddings to symbolize both the purity of the love being celebrated, as well the dawning of a new day in the lives of each person.
Flowers can be used to convey a multitude of sentiments. They can be sent for any reason or for no reason at all if you know what you want to say; the flowers which can help you say it. And they don't have to be an expensive gift. From cheap red carnations to the Shenzhen Nongke Orchid, which was sold in 2005 for more than $180,000, flowers can be found to fit any budget; even the outrageous. Luckily, though, even the most inexpensive flower in the world will be absolutely priceless to the person who receives it.