The most enjoyable gifts to give a family or friend include one that can contribute to an individual's personal collection of antiques, coins, or even spoons for an item that will be treasured for a lifetime. There are several gifts that are popular to collect and make it easy to show your appreciation for the recipient.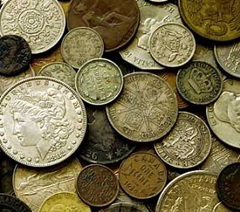 Image sent by author
1. Coins
Coins come in beautiful designs and amounts, often valued by those who enjoy history and have an appreciation for how money has evolved over the decades. Between Washington quarters to coins from other countries, there are several places to find unique gems that can add to the recipient's personal collection.
Visiting a coin dealer will make it easier to find a rare coin that is of high value, making it important to learn about coin grading before making a purchase. Caution should be used before making a purchase over the phone or online before the item has been inspected firsthand.
2. Autographs
Collecting autographs can be a meaningful hobby for those who enjoy finding an old Marilyn Monroe signature, or spend their time tracking down a rare Babe Ruth autograph on certain memorabilia. Autographs can also be collected from current celebrities or political figures in the limelight, making it fun to give the gift of an autograph that may even be personalized when meeting certain stars. In some cases, autographs can be purchased through reputable dealers.
3. Antiques
Many people collect incredible antiques that include china dishes or vintage mirrors to display in their home. The more items that are collected, the more the enthusiast can enjoy their collection and treasure every piece. Vases or dishes made with swarovski crystal make a beautiful gift that is both timeless and classy in design, adding exceptional taste to any home and collection.
4. Stamps
Found on old love letters and often preserved in mint condition, stamps are a common collector's item that displays beautiful graphics and imagery over the decades. Preserved stamps can be easy to find in antique stores or over the Internet, making it easy to come across unique stamps that can stand out among a certain collection.
Approximately five million people collect stamps, making it a competitive hobby that allows philatelists to create a work of art with their collection and proudly display it in the home. When giving the gift of a stamp, it is still considered appropriate for it to be intact on a letter, which can add to the character and history behind the item.
By Jayla Barnsen