Gifts are very special to women. They are meant to be emotional, personal and are the embodiment of strong relationships for them. Choosing the gift by keeping the emotional connotations that women have regarding gifts can make it difficult to choose one, be it fashion scarves or any other kind of accessory. If you cannot decide what to buy, jewelry is the option that you should opt for. Jewelry is the amalgam of delicate precious metal and the personification of human art. Any article of jewelry accents woman's beauty. Be it a necklace wrapped around her neck or bracelet on her wrist, each one speaks about her elegance and style. When choosing a jewelry item as a gift, be particular about her choices and choose what you think she would have chosen. Here are four best jewelry items that you should choose for 'her':
Rings: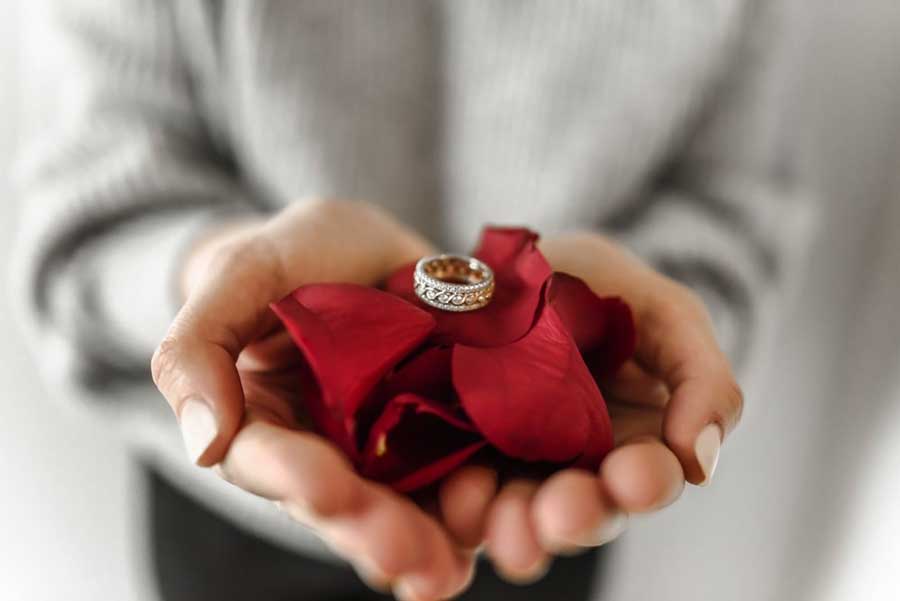 Image sent by author
Rings are the easiest accessory to wear. Even if a woman doesn't prefer to wear jewelry all the time, then the ring is the best option to buy for her. Rings are the most eminent piece of ornament and are the most visible ones. Choosing a ring for your special person is so difficult. All you need to do is to pay close attention to her style. If she prefers minimal and light accessories, then choose a ring that is simple, light in weight and elegant. Look at her other jewelry to get a more accurate idea of what kind of ring you should buy for her and what metal she usually prefers to wear. If you cannot do any of these, then seek help from any other female friend of yours to help you pick a perfect ring.
Pendants:
Whether a woman is a fan of neckwear or not, but the moment she wears a perfectly delicate and effortless chic pendant, she is never going to take it off. The neck is considered to symbolize a woman's beauty universally, however, most women overlook this fact and do not wear pendants casually. This is the most precious gift you can give to anyone. Make sure to choose a pendant with minimal embellishments. Peral pendants or gemstone pendants are best to wear casually. Wearing such elegant pendants will elevate her style and persona.
Bracelets:
Bracelets are the perfect symbolic gifts to express your love for someone. They are gender-neutral which makes them even more special. Bracelets are the most convenient accessory that can be customized. You can buy gold-plated or silver-plated bracelets with yours's and your loved one's name initials engraved on it. else you can inscribe on it her date of birth or your wedding anniversary or the date you first on it. Nothing attracts women more than personalized gifts. It adds more value to the thing. Therefore, bracelets are a go-to option for you if you don't want to experiment by buying jewelry items. 
Brooch:
Brooches are the accessory not known to everyone. They are used to hold two pieces of garments together. Brooches bespoke elegance and style. They are not commonly used by everyone which makes it a unique jewelry item. They are available in different metals and are embellished by ornaments like gemstones, pearls, etc. brooches are considered to be the most valuable jewelry item. The most commonly preferred brooches are emerald, plum, or navy blue. The addition of a brooch to an outfit gives a royalist hue to your appearance. Therefore, they are the best option that you should consider buying. 
The specifications associated with each jewelry item and their symbolic value will help you buy a perfect present for the woman whom you love, be it your sister, mother, wife or friend. Your gift symbolizes your love for them and how important they are to you. Expressing it in the best possible way is not difficult if you choose the jewelry item keenly. Jewelry is something very personal and close to women. It makes them feel that you consider them worthy of your love and attention, which enhances their own sense of worth as an individual and makes them feel special. Jewelry evokes many pleasant memories and emotions. Every single jewel that you give her reminds her of the special and happy occasions that were associated with the day you gave it to her. Embellish your memories with the jewels that will help you win her love now and forever! 
By Hassan