I love selecting gifts for all of the women in my life, whether it's for my best friend, sister, mother, aunt or niece, though it can be a time-consuming endeavour as I feel I need to find the most unique gift ideas that will be sure to delight her… you know, something that she would have chosen for herself.
For my best friend, I'd definitely buy handmade gifts for her, actually for all my female friends since I know they'll all love receiving something truly special and unique – a one of a kind gift! Think about it, when you are purchasing a hand-crafted present, no two will be alike, making for the most exclusive of gifts.
I no longer have the desire to deal with the hassles of crowded shopping malls, or selecting from the mass produced goods found in chain stores around the country, but would rather go further afield in search of that stylish little 'one-off' boutique store where they'll treat you with respect and offer a selection of really unusual and stylish creations. Whomever you purchase your handmade gifts for will love that they don't have something 'off the shelf', and will feel special each time they use or wear your special gift.
Hand-made jewellery is one of my big passions and it doesn't have to be expensive to be the perfect gift idea for one of your female friends or relatives – remember, beauty is in the eye of the beholder!
Choose from delicate semi-precious stone necklaces and dainty silver pendants or stylish pewter bracelets, bangles and earrings.
I also adore 'smellies' such as handmade candles – these make great gifts. Mmm, delicious aroma's that drift around the house creating a particular ambience, whether it be the calming blends of lavender and rose, or the seasonal flavours of cinnamon and spice. Add to this a selection of smelly handmade soaps and bath and body products for her to pamper herself with and you have one appetisingly aromatic birthday or Christmas gift for any of the women in your life.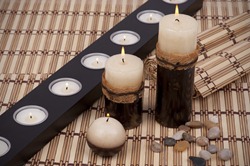 Selecting Gifts for Her Online
Buying handmade gifts online is a most straight-forward and simple option too, taking the stress away from the entire shopping experience. One, two, three clicks and your gift is purchased, gift- wrapped and shipped to your door – what could be simpler? I've also noticed that many online gift websites offer helpful shopping guides for those who need a little extra assistance (essentially men!).
Another reason for buying hand-made gifts is that you'll be supporting small business owners and artisans around the globe. The dedication and effort that goes into creating hand-crafted products makes the gift giving experience that much more enjoyable for you are bringing joy to both the gift designer, as well as the gift recipient.
So, with the holiday season just around the corner, now is the perfect time to start searching for hand-made gifts for everyone on your Christmas list.
By Deana J. Smart