We all love to have a good laugh. To put a smile on your friends faces offer them funny t-shirts.
Because the internet is huge you will find the t-shirt that'll fit everyone on your list for sure. For this blog post my source of inspiration was BigDogs.com – a website specialized in selling funny, attitude, occupation t-shirts. Currently they offer sizes up to 6X, 2 for 1 pricing on graphic t-shirts and free shipping with $50.00 purchases.
And now let's see the funniest t-shits.
#1. Just Do It Tomorrow T-Shirt
In my opinion this is a super funny t-shirt. They got the Just Do It slogan and transform it into Just Do It Tomorrow. Hilarious.
#2. Facebark T-Shirt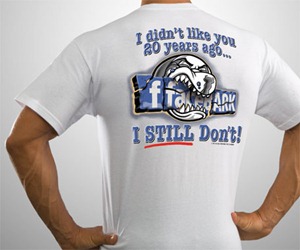 The massage is simple: I didn't like you before and I still don't so don't add me an Facebook.
#3. It's Five O'Clock Somewhere T-Shirt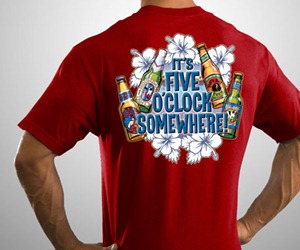 This is the perfect t-shirt for parties. It says It's five o'clock somewhere so the fiesta may start right now.
The funny t-shirts can be excellent gifts if you don't offer something that may be offending for people and you match the shirt with the receiver personality.
All the funny t-shirts form this post will make people smile. 
You also should know that there are funny fleeces available so you can offer hilarious and super comfy lounge wear.