Are you looking for the best baby gifts? I have just discovered a site with great gifts for a baby. Baby Gift Ideas deliver gifts, flower bouquets, cakes and wine to all 50 states.
Here are 5 of my favorite baby gifts
This baby carriage makes a unique gift and is overflowing with irresistable cookies. It includes: 25 Oatmeal Raisin Mini-Cookies, 25 Chocolate Chip Mini B Cookies and two Sugar Cookies shaped like baby's feet and hand-decorated with blue or pink icing. The keepsake carriage with moving wheels makes a great nursery memento.
The baby boy's carriage comes dressed in blue and the baby girl's carriage comes dressed in pink. Consider this if you need a themed centerpiece for the baby shower gift or food table.
Buzz Buzz! These bugs are busy welcoming a new baby into the world. This bright and fun two tier diaper cake is sure to be the hit of the shower! Full of all natural baby products and fun toys for baby including 30 Disposable Diapers, Baby Einstein Cooling Teether, Bug Themed Activity Mirror, Manicure Set, Bottle, Booties, Burt's Bees Diaper Cream, Burt's Bees Baby Wash, and Burt's Bees Buttermilk Lotion, this diaper cake is a gift to remember and comes wrapped with matching ribbons.
3. New Baby Blanket Gift Bouquet
This New Baby Blanket Gift Bouquet will be the most unique and fun gift you will ever give a new mom. This wonderful gift looks like a beautiful flower arrangement, but is actually beautiful baby clothes wrapped to look like flowers.
The "vase" is a receiving blanket, the flowers are bodysuits (2), baby cap, baby booties and baby scratch mittens and another receiving blanket. the bouquet is garnished with silk flowers to complete this awesome gift!
4. A Star is Born Boy Cookie Bouquet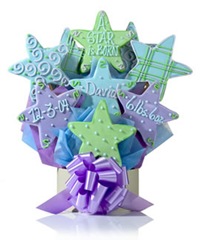 For the newly arrived baby boy (also available for girls) and his proud parents. A great gift they can share with family and friends who come to welcome the newborn.
Each bouquet is wrapped and packaged with delicate care to insure it arrives safe and sound into your recipient's hands.
This cookie bouquet can also be customized with a center cookie message, child's date of birth, and child's birth weight to make it an extra special gift.
5. Baby Bountiful Deluxe Gift Basket
Welcome the new baby girl or baby boy to the world in grand style with this delightful baby gift basket!
Greet both the new baby and the proud parents with this wonderful gift basket that includes all the baby layette essentials — a first teddy bear, a lullaby CD, grown up yummies, and to make the blessed event truly unforgettable – a baby time capsule and a first footprint kit.
For more baby gift ideas visit the Baby Gifts page.