The holidays are approaching and your beloved pet also needs a gift for the holidays. To buy gifts for your loved dogs is fun. They too can sense their gifts with a sniff on the package over and over. With Christmas time remember to gift your dog with something special. A man can be judged by the way he treats animals. You having a pet is one of the best decisions. Dogs especially are affectionate, lovable and loyal. In return for this their best gift could be a dog bed. This ideal gift for your pet dog that sleeps for 12 to 14 hours a day, nothing could be a more appropriate gift.
The first quality of a good dog bed is that it needs to be comfortable. But choosing a good bed is a task in itself. It should the needs for your pet and matches the requirements. It is not necessary that style needs to be given up for meeting requirements and comfort. There are many options today that let you choose the perfect gift for your loved dog – a dog bed.
Dogs are den animals and the dog bed can become their perfect sanctuary. They rest whenever they feel stressed. So a dog bed is quite a necessity. Their lifespan is not a long one, so all the more need to be taken care of.
When buying a bed the most important factor is the comfort that it will give. If your pet dog is not comfortable, he might show it in one way or the other, through his behaviour. The next point to keep in mind is the quality and durability of the bed. Last but not the least is the price tag. A comfortable dog bed may not necessarily mean an expensive one. Once you buy the dog bed, you can train your beloved pet to use it properly. Make some time to help your dog feel happy and comfortable in his new den. It will also make you happy to see your pet comfortable. The right bed can prevent discomfort to your dog and help them have a relaxed sleep.
However, before you start shopping for the right dog bed, there are a few things to be kept in mind:
Sleeping habits and the size of your dog
If you have a small puppy and is not going to grow up into a big dog then a small dog bed is also good enough. However, if your puppy is going to grow up into a big dog, you would not want to end up with a small uncomfortable bed for him. Your dog bed needs to comply with the dog size and temperament too. Notice your pet's behaviour and his sleeping habits. If your dog likes to curl up and sleep, a good round or oval shape bed with cushions would be great. For tiny dogs there are small baskets available which give them comfort. Measure him in his stretched position too. Add at least five inches to that and bring a bed closest to that measure if your dog likes to sleep in stretched positions. You can get him a rectangular fibre bed or a mattress, if your dog has the habit of sleeping in stretched and curled up positions.
Age and health of your dog
If you have a dog with an orthopaedic condition, you can also go for a orthopaedic, heated dog bed. A firm and supportive mattress is the basic requirement of the dog bed. More cushions will add on to the comfort on the joints and bones of the dog. Overweight dogs benefit from the extra cushions. If you reside in colder and chillier climates, a nice soft heated bed will be loved by your pet dog. Many manufacturers provide the option of soft beds.
Like kids, dogs can get messy and it is a challenge to face. Machine washable fabric for the dog bed will make it easier for you to maintain the dog bed. There could be nothing better than having a stain resistant fabric. To have more durability choose something that has a double stitched seam. Removable cover will make them easy to wash and maintain.
Dog bed covers & liners keep your dog bed dirt-free and dry. It also adds in a slight touch of beauty with the vast range of colors available. Hypo allergic and anti bacterial dog bed covers are also available in the market, to maintain hygienic levels for your pet. A highly durable, long lasting, nearly imperishable bed will be great if your pet dog scratches and tears the bedding.
A fancy dog bed will make the perfect gift this season. They are made with decorated covers and bed frames. Some are also found in brass bed frames.
Dog beds the ideal gift will make them feel loved, comfortable, snug and cozy.
This time around give your loved dog a luxurious and comfortable gift.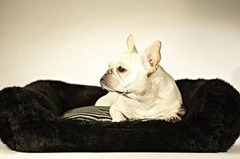 Author Bio
This post is authorized by Jason Phillips. He is a freelance blogger and editor at a website. He purchased a beautiful donut dog bed for his Chihuahua.
.