What are eternity rings
Eternity Rings are a symbol of everlasting love. These rings are capable of carrying the passion, love and tenderness of your relation perfectly.
When to offer one
Eternity rings are frequently given to celebrate an anniversary or other special event.
There is no need for a special occasion to show your endless love! So if you want to surprise her don't wait for a special moment.
Buying one
Because the rings must be custom sized and designed most jewelers do not carry sample rings in stock so if you want one you must know the sizes.
Also because they are custom made the price is higher than normal rings. The price varies depending on the ring model, the stone type and size.
Recommended eternity ring models
Pink Sapphire Full Eternity Ring In 18 Carat White Gold
A stunning pink sapphire full eternity ring with high quality pink sapphires and 18 carat white gold.
Price? £499.00
0.50 Carat Baguette Cut Diamond Half Eternity Ring in 18 Ct Yellow Gold
This ring contains 22 diamonds with an average size of 0.023 Carats.
Price? £658.00
1.31 Carat Diamond Full Eternity Ring In 18 Carat White Gold
Superior diamond jewellery made with hand picked high quality diamonds and beautifully presented. 6 x 2 mm
Price? £2,163
3.54 Carat Emerald Cut Full Diamond A Class Eternity Ring In Platinum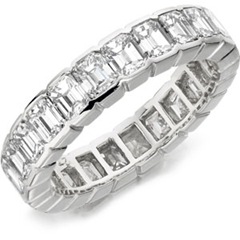 This ring contains 24 diamonds with an average size of 0.148 Carats.
Price? £11,965
Conclusion
If your budget allows then a Eternity ring is a wonderful gift because it will make happy and will strengthen your relationship.