Gifts are usually given for different occasions such as for a birthday, anniversary, holiday or just because. Unfortunately, finding the perfect gift for a loved one can be challenging. However, there are many unique gift ideas out there on the market that are functional and thoughtful.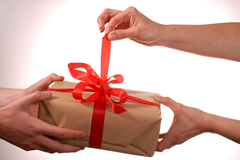 Image sent by author
iPad and iPhone Cases
It seems like everyone has a tablet or smartphone so a case or accessory of sorts will be an obvious gift. There are millions of different cases and covers on the market so it is important to choose a special one. Leather is always a great option because it offers a durability that is important. Plus, leather looks classic, elegant and is always in style.
Bags or Briefcases
While not every guy out there needs a beautiful handbag, they may need a nice briefcase to carry their belongings. Although they are not as popular today as they were years ago, briefcases are stylish cases for men , or women, to carry their belongings to and from work. Leather briefcases are available in all different sizes, shapes and colors so there is definitely one suited for everyone.
Wallets
While a wallet may not seem like a thoughtful gift, it truly can be. Wallets are used by everyone and usually used everyday. So, they are very functional gift ideas that can be great for both men and women. There are numerous styles and designs available but a good quality leather wallet is not only durable but can also be beautiful. To make a wallet even more thoughtful and personal, pictures can be placed inside. When a person opens up their new wallet, they will be surprised and pleased by how much though and time was put into choosing it as a gift.
Photo Albums
Photo albums are another amazing gift option for a loved one. Choosing a beautiful leather photo album can really be a nice way to show someone how much they are cared for. However, it is important to not purchase a photo album, gift wrap it, and hand it over. Photo album are meant to hold photos so placing personal pictures inside before giving the album can be a wonderful way to add that extra touch every gift needs. Photo albums are available in all shapes and sizes, colors, and designs so they are excellent gifts for just about anyone.
Journals
Many people are focusing too much attention on their mobile devices and the internet. Fewer people can write an actual letter because they are too busy sending emails. A leather journal is a really amazing gift. Journals allow users to get back down to the basics and write. They can use journals for a variety of reasons including jotting down notes, grocery lists, things they need to do, or to write letters to others. They can be used as address books, too. Of course, most journal users write down their thoughts and feelings as a way of therapy. Journals are excellent ways of getting things off of a person's mind. Imagine giving a beautiful leather journal to a loved one and their first entry being how happy they were to receive this gift.
Of course, each person is different and may like different things. From albums and wallets to belts and shoes, a leather gift can definitely last a lifetime. Vist rusticoleather.com for a wide variety of these gift ideas that will work great for you.
By Rianne Hunter