Sending flowers remain one of the most beautiful gifts.
Flower gifts are great for showing you care and giving a plant can help bring color to any room, office, or even garden of your recipient.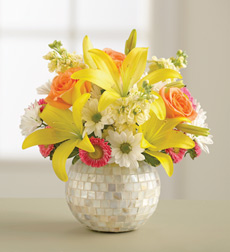 Flower gifts are special and whenever you are caught in a dilemma as to what to gift one with, you can rest assured that a flower gift will be most welcome by anyone.
Flower gifts are very personal, and shoppers like to see the arrangements and attach a personal card to the gift, if possible.
Ordering plants online is not an easy task. There are so many web shops selling plants so to be sure you get the right one I have some tips for you:
do they have a complete contact page? If not do not order from them, if yes sent them an email or give them a phone, put a question and see if they answer fast. A fast response means a fast delivery.
search "the name of the shop + forum" on your favorite search engine and see what people are saying about that shop.
Plant gifts are certainly great for any occasion, especially for a house warming. Plant gifts are more suitable as an element of home or office decorations rather than as just a gift.
So order plants online and make someone a big surprise.