The 14th of February is fast approaching, and for some people showing how much you care and love that special someone in your life is a challenging task. You need to show that you have been thoughtful and original again this year. Finding the perfect gift isn't about spending lots of money on items that your loved one probably has no interest for or will never wear; instead it's about picking an item that they will cherish for years to come and that encapsulates exactly what they mean to you.
There are many types of jewellery that are appropriate gifts for your wife or partner but a perfect way to show how much someone means to you this Valentine's Day is with an eternity ring. A diamond eternity ring not only shows how much someone means to you with a beautiful piece of jewellery, but the symbolic gesture of never-ending love will always remind that special someone of the place they have in your heart.
Just Eternity are one of the largest manufacturers of Eternity rings in the UK and now sell their beautiful range of eternity rings on their online store. Their beautifully designed and crafted eternity rings comes in a variety of styles and to help you with discovering the perfect gift, we've picked out three of the most precious rings for you.
1. Platinum Full Eternity Ring from Just Eternity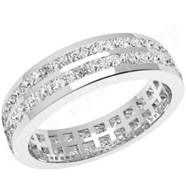 This stunning full platinum eternity ring captures elegance perfectly, finding a balance between style and luxury that is sure to wow that special someone in your life this Valentine's Day.
2. White Gold Emerald and Diamond Ring from Just Eternity
This classically stylish emerald encrusted eternity ring would be a perfect gift if your partner is someone with an interest in traditional styles and fashions. With emeralds again becoming popular in the jewellery market, this ring shows you have taken time to consider current trends and the style of your partner.
3. White Gold Ruby and Diamond Eternity Ring from Just Eternity
Nothing captures the essence of Valentine's Day more than a splash of red and the precious Ruby stones set into this eternity ring do just that. The beautiful rubies compliment the diamonds they sit alongside wonderfully, resulting in a stunning eternity ring that would be a perfect Valentine's Day gift.
If any of the eternity rings featured in this blog post catch your eye, visit Just Eternity to view the full range of eternity ring styles that they offer.