Your friends love to cook? Great you will offer them the perfect gifts!
First you must know what kitchen gadgets do they have and after that get what is missing.
Below you have some useful kitchen devices to get an idea what you can offer. Also the items presented have special prices.
The Salter Meat Thermometer is a stainless steel and silicone meat thermometer with a dual pointer which indicates both the cooking temperature and how well the meat is done.
With a slim stem to avoid making large holes in the meat, and an easy to read display.
Stellar James Martin 2 Piece Carving Set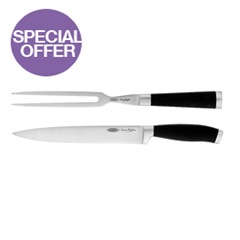 Stellar James Martin 2 Piece Carving Set. This Stellar knife collection is styled to James Matin's specifications. Made from high quality molybdenum stainless steel and taper ground. Handles are moulded and ergonomically shaped with a soft touch, anti-slip, finish.
Set includes – 20cm Carving Knife and 18cm Carving Fork.
Bodum Fondue Set. This stainless steel set can be used to make bourguignonne or cheese fondue. Set includes a fondue top bowl, a spirit burner and base.