There is a new jewellery fashion taking the world by storm. It's called Pandora, but unlike the myth everyone seems to love the sparkly delights found in these jewellery boxes. The most popular item is the Pandora Charm Bracelet, a modern twist on the classical charm bracelet, where the majority of charms are styled beads.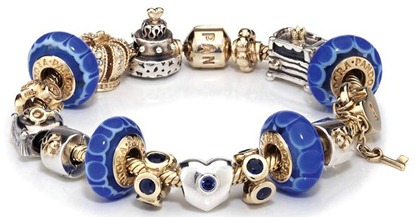 The Basic Bracelet
The base bracelet can be made from leather, silver or gold, and makes a fabulous gift when accompanied by a few starter charms. This would make a great Birthday or Christmas Gift, and will start your lucky lady's Pandora collection in style.
Something for Everyone
The real beauty of Pandora charms lies in the huge range of charms available. You can find something to suit any personality – from charms styled as favourite animals, charms relating to hobbies, sports – from ballet shoes to books, and a whole range of beautiful beads decorated with sparkly gems, enamel or beautiful embossed designs.
Gifts for all Occasions
You are sure to find something for any occasion – a religious symbol such as a cross for a Wedding, Christening or Confirmation, a house charm to celebrate a new home, and even a lucky shamrock for that all important interview.
Spell it out…
With letter charms, you could choose to spell out her name, or perhaps some initials which are of special significance? Birthstone charms make ideal birthday gifts, or alternatively you could opt for the cute and fun birthday cake bead.
Glassy Glamour
The glass Murano beads offer a modern twist, and their bright vibrancy brings life to any bracelet. With such a range of charms available, these gifts can help ensure that your loved one ends up with a unique bracelet, where each charm holds a special, sentimental significance.
New Novelty
Pandora are constantly creating new charms – with new ranges coming out at Valentine's, Mother's Day, Easter, and Holiday Season as well as seasonally throughout the year. It is likely that once your loved one starts her collection she will leave subtle hints to the charms which she would most like to have, so a few strategic visits past a jewellery shop, or browsing online could give you valuable insights to the perfect gift.
Collectable
Pandora Charms are incredibly collectable. Some charms are limited editions, making them rare and increasingly desirable. The Royal Wedding Charm is a good example of a limited edition charm which will be extremely collectible.
Other ranges…
If your lovely lady finds that she has too many beads for her Pandora bracelet, there are also necklaces available which work on the same principle, allowing her to mix and match her charms, creating unique jewellery pieces.
Pandora also creates stand alone jewellery, such as LovePods and the Liquid Silver ranges.
About the Author: This guest post was written by Emma from ArgentaJewellery.co.uk, Certified Online Retailer of Pandora UK.