Getting an ideal gift for a gardener is not that hard, as this field has a wide variety to choose from and varying products, all nicely designed. The gifts are easy to find too, with most local stores and online retailers offering them at very affordable prices.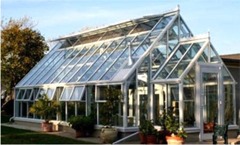 Image source:gothicarchgreenhouses.com
Gardening Book
A nice gardening book is an absolute treasure for gardeners. It serves as a great reference source as well as a keepsake. A gardening book, usually written by gardeners of repute, offers on hands training from the gardening masters. To the gardener, it is a form of private lessons from the author. The accompanying guidelines and pictorials do offer the easiest way to gauge progress and compare the results.
There are thousands of books available, so selection should not be a problem. You can either select a book to solve a current problem the gardener is facing, or a whole new guideline of approaching a project, whether new or old. Ensure that the selected book is easy to read, is informative and entertaining.
Greenhouse Kits
Owning a green house is usually the topmost wish for a gardener. Greenhouses offer controlled environment for growth of virtually any herb, fruit or vegetable.
A greenhouse kit is the best in gifts for a gardener, especially those starting out. This is because it comes fully self contained, with the materials required for the set up. Some even have accompanying tools, manuals and guides and the starter seeds themselves.
A typical greenhouse kit is composed of the following:
Aluminum greenhouse frame
Polycarbonate panels
Base kits and spikes for grounding
Weather-stripping materials
Rainwater spouts
Garden Tool Sets
There is a wide selection of garden tool sets ideal for gifts for a gardener. The best thing about the sets is that they are available in a wide variety of sizes, color and uses; therefore making it very easy to find the unique gift to suit the gardener's preferences and requirements. A typical gardening set consists of trowels, cultivators, matching apron, shears, pruners and weeders. Ensure that the set purchased is strong, light, appropriately colored and is rust proof. To combat the rust issue, there are a wide range of reinforced plastic tool sets available.