For someone who loves leather these gifts will be a dream come true.
The first idea is to offer a leather holdall. Leather holdalls are ideal for a carry on travel luggage as the leather is very durable yet also very fashionable.
This gifts are perfect for a traveler because you can choose between Cabin and Flight bags. And they come in all shapes, sizes and varying grades of leather so it will be easy to find something to fit the receiver preferences.
Another advantage of holdalls is that they are suitable gifts for a birthday or for Christmas.
The 2 holdalls I like are:
Leather Flight Bag – Holdall
What is great about this flight bag is that the appearance the leather improves with age and it offers a combination lock.
Brown Leather Cabin bag – Brown Leather Holdall
This is a beautiful Indiana Jones style holdall suitable for gents or ladies. It is made with 100% soft buffalo leather which makes it the ideal tote bag for the intrepid traveller.
The second leather gift idea is to offer a jewellery box. The jewellery boxes were very appreciated by ladies in the past but now both sexes enjoys them.
You can offer a jewellery box on many occasions like: anniveraries, birthdays for girl friends, wives and mothers.
The 2 jewellery boxes I like are:
Black Leather 10 Watch Storage Case
This beautiful black leather watch storage case with a fashionable grey strip is made from genuine bonded leather.
Cream Leather Jewellery Box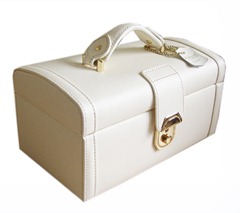 This leather jewellery box is the ideal birthday gift. It is made from real bonded leather and comes with a portable travel case.