I have found some scary magnets presents for Halloween: the Halloween Scratch Art Magnets.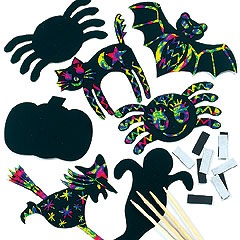 They'll be hurrying to get their hands on these 'horrible' Halloween magnets! Scratch the specially coated surface to reveal a cauldron of rainbow colors.
Each pre-cut shape comes with a scratch tool and self-adhesive magnet.
6 assorted. Size 11cm – 15cm. Age 5+.
The Halloween Scratch Art Magnets cost just £3.99 and they are available at YellowMoon.org.uk.