I have build a top of hamper gifts for October 2009.
#1. Six of the Best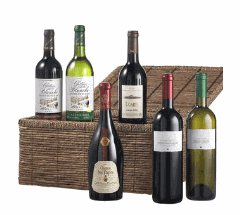 A superb, versatile gift for wine lovers on the one hand…but if you fancy treating yourself instead then just go ahead! Six top notch wines which are sure to impress your guests, and you certainly won't find them on the supermarket shelf.
This hamper contains:
Sauvignon Blanc Chateau de la Blanche Appellation Cotes de Duras Controlee 2007 75cl
Merlot Cabernet Sauvignon Chateau de la Blanche Appellation Cotes de Duras Controlee 2005 75cl
Cotes du Rhone Chemin des Papes Appellation Cotes du Rhone Controlee 2005 75cl
Montepulciano d'Abruzzo Gran Sasso 2006 75cl
Trebbiano d'Abruzzo Gran Sasso 2006 75cl
Rioja Cosecha Ugarte 2006 75cl
#2. Duchy Originals Organic Gift Tray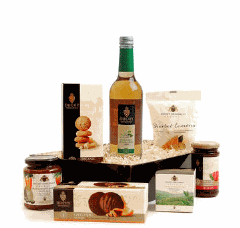 This tray makes a delightful gift, full of tasty organic treats. The rich chocolate biscuits are made with milk chocolate coupled with orange. They are made using wheat and oats grown on the Home Farm at Highgrove and other UK organic farms.
Today most Duchy biscuits use a traditional variety of wheat called Maris Widgeon, which grows tall to outpace weeds and provides protection for birds and insects on organic farms. Baked in the Scottish Highlands, these chocolate biscuits melt in your mouth! The Cheese Nibbles use mature cheese from an organic farm in Somerset.
This hamper contains:
Duchy Originals Organic Elderflower Cordial 500ml
Duchy Originals Organic Sherbet Lemons 125g
Duchy Originals Organic Farmhouse Pickle 310g
Duchy Originals Organic Raspberry Preserve Extra Jam 265g
Duchy Originals Organic English Breakfast 10 Tea Bags 25g
Duchy Originals Organic Orange Biscuits Dipped in Dark Chocolate 100g
Duchy Originals Organic Cheddar Cheese Nibbles 100g
#3. Tear and Share Sweet Hamper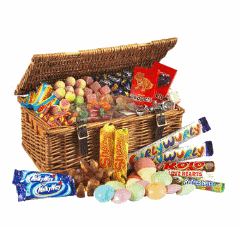 As tasty as it is colorful, the Tear and Share sweet hamper is a firm favorite of ours. The smart little hamper is brimming with chocolates, boiled sweets, chews and lollies.
Tear and Share Sweet Hamper contains:
Refreshers
Rolos
Love Hearts
Curlywurly x 2
Milky Way x 2
Black Jacks x 10
Fruit Salad x 10
Sherbet Fountain x 2
Ice Cream Cone x 2
Paynes Poppets x 2
Refresher Chews x 4
Giant Double Lollies x 2
Flying Saucers x 10
Haribo Cola Bottles 100g
Haribo Jelly Beans 100g
Haribo Tangfastics 100g
Cola Cubes 100g
Rosey Apples 100g
Chocolate Eclairs 100g
#4. Season's Greetings Hamper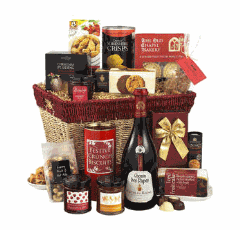 This eye-catching and sturdy red and natural seagrass gift basket contains a generous variety of satisfying treats, chosen to create the perfect Christmas Hamper. As well as Christmas pudding, mince pies, cranberry sauce and a bottle of wine, we have included such delights as Duchy Originals Organic Toffee Biscuits dipped in Milk Chocolate and wonderful Bitter Oranges from Bendicks. With its classic contents and festive appearance this is the perfect gift with which to greet the festive season.
This hamper contains:
Cotes Du Rhone Chemin des Papes Appellation Cotes du Rhone Controlee 75cl
Duchy Originals Organic Toffee Biscuits Dipped in Milk Chocolate 125g
Convivial Yorkshire Crisps Tomato Basil & Mozzarella 100g
Maxwell & Franks Deliciously Rich Christmas Pudding 454g
The Old Chapel Bakery Luxury Hand Made Mince Pies x 4
Orchard Preserves Seville Orange Marmalade 227g
Kitchen Recipe Hand Made Cranberry Fudge 125g
The House of Fudge Festive Crunch Biscuits 150g
Hamlet Assortiment of Belgian Chocolates 125g
Healthy Ideas Luxury Fruit & Nut Mix 160g
Buiteman Sundried Tomato Baguettes 75g
Bendicks Bitterorange Chocolates 100g
Orchard Preserves Raspberry Jam 227g
Maxwell & Franks 5" Iced Fruit Cake
Bromleys Cranberry Sauce 200g
#5. Chilli Hamper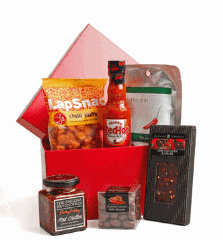 Put simply, this gift is red hot. Fittingly presented in a bright red gift box, we've brought together the fieriest flavours that we could find – chilli chocolate and chilli puffs, as well as a packet of seeds so that you can grow your own.
This hamper contains:
Pocket Garden Hot Stuff Chilli Seeds
English Provender Company 'Very Lazy' Chillies 190g
Olives Et Al Chilli Puffs Rice Crackers Spiced with Chilli 75g
Chesters of St Andrews Dark Chocolate Bar with Chillies
Chesters of St Andrews Chocolate Covered Chilli Almonds in Acetate Cube 82g
Frank's Red Hot Original Cayenne Pepper Sauce 148ml
Also if you don't have any inspiration on choosing presents you can check out GiftGen.co.uk. They have easy to use to use tool for generating hundreds of gift ideas – all you have to do is select the budget, age, character and age.