You want to buy some furniture for your kids, or you want some to make a beautiful gift but what to buy?
You will find interesting gift ideas baby bedding (crib bedding) and kids furniture.
A good gift idea for people with babies is to get them something they need – a bed for their kid. Baby cribs are a necessity for every baby and parent because the child will sleep in a crib until it's time to move into a real bed (typically between the ages of 2 and 3).
Crib bedding buying tips
When shopping for the baby crib you must consider the following:
1.The crib must meet all recommended safety standards. Be extra careful with antique cribs because many don't meet this safety standard.
2.Check the crib for sharp edges, holes, and splinters. Be very careful with that because the baby can hurt himself!
3.Be sure that any paint used on your crib is not made with lead paint. Lead is a highly toxic metal. The new cribs are usually painted with safe paint, but ask anyway. Be very careful with the used cribs.
4.The crib must have a high head and footboard. This way child will have a peaceful night's rest since it reduces noise and distractions.
5.Choose a crib that lets you adjust the height of the mattress. When the baby will start to move more the parents will lower the mattress so he can't climb out easily.
6.Look for a crib with a drop down gate for you to pick baby up and put him back down for naps.
7.If the crib you purchase happens to have wheels, be sure to take extra care that the casters lock to ensure baby's safety.
8.If possible buy a convertible crib. Look for one that can easily turn into a toddler bed.
Baby bedding models
Baby beddings come in so many models so I will only present you several models and you may visit the baby beddings shop to see the rest.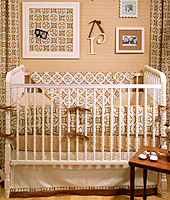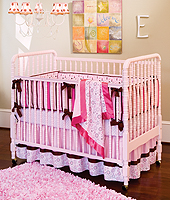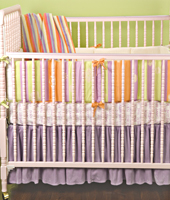 Kids Furniture buying tips and gift suggestions
Before buying kid furniture as a present consider the following: 1.Make a plan first. What kind of furniture the child will require? Think about it and write it down.
2.It is very important to look at the quality of the furniture that respects the safety standards. Also look for sharp edges.
3.All furniture you buy must be washable and durable. Kids make a lot of mess so their furniture must be easy to clean. The furniture should be strong enough to resist to the children playing and the normal "monkeys jumping on
the bed."
4.Look for modular storage furniture. Babies grow up very quickly, so they will need space for new clothes and for toys.
5.The colors must be simple yet stimulating. You must make the kid room a happy room. Babies prefer simple shapes, bright colors, and objects with high contrast. Pastel shades are believed to encourage serenity and rest.
Kids Furniture gift suggestions
You can choose from a lot of categories when buying kids furniture. The child will need armoires, chairs, beds, bookcases, desks, desk chairs, dressers, mirrors, storage bins, tables, toy chests.
Of course you don't have to buy all that. Just choose one or two.