The last nautical gift ideas post was very appreciated so here are some new gift ideas.
Nautical gifts can be offered to people who love the sea, the ships or like to sail. A nautical present will be great for a sailor.
Don't forget about the ones that don't sail, but love to collect miniature ships and nautical equipment.
HMS Surprise Model Ship – Limited Edition
Limited Edition model features an authentically aged real copper plated hull just like the HMS Surprise.
HMS Surprise is built with rare, high quality woods such as cherry, teak, white pine, birch and maple.
The details are amazing: planked deck with nail holes, oars in the lifeboats, rudder chains, cannonball racks and I named only a few.
Before building the HMS Surprise, it was exhaustively researched so the ship is historically accurate.
The ship model cost $438.95 and comes fully assembled.
Skipjack Nautical Clock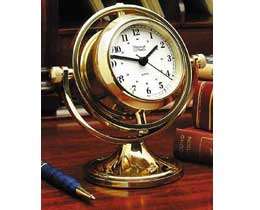 It is a combination clock/barometer that swivels 360° horizontally and vertically in a brass, perfectly balanced and integrated gimbal so that on one side is the clock and on the other side is the barometer.
The gimbal also allows for comfortable viewing from any angle.
This nautical clock price is $247.50.
More Nautical Gifts Ideas
You can offer as presents a lot of nautical related items like:
* Nautical instruments: barographs, barometers, brass telescopes, marine binoculars, nautical charts.
* Model ships: american model ships, brass model ships, british tall model ships, pirate ship models.
* Nautical decor: airplane replicas, aquariums, balance toys, bowls and vases, brass ship bells.
* Nautical gifts: airplane replicas, balance toys, brass telescopes, travel bags, nautical art, nautical bar accessories, nautical clocks.
* Nautical Lights: bulkhead lamps, electric nautical lamps, lighthouse lamps, lighthouse replicas.
You can get all that from the nautical gift shop.