Although gender-specific gifts are ideal for things like a promotion, retirement or a personal or family occasion, sometimes buying your man a gift that you can both enjoy is more appropriate. Because of the predominance of gender stereotyping which is still rampant in society, it's an easy enough matter to choose a gender specific gift, whereas hunting down an item that both of you can enjoy takes a little more skill and persistence.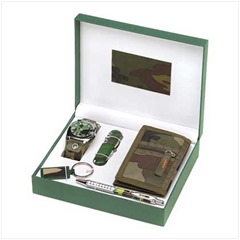 Image source reigninggifts.com
Electronics
Both men and women can make good use of a laptop for a variety of purposes and a laptop these days is as likely to be found in a kitchen as in an office. Mobile phones for keeping in touch with family and friends are another good idea and there's no shortage of funky new designs to choose from to replace an older model. Picking an electronic gift to suit any requirement and budget is a simple enough matter with so many features and prices to choose from.
Travel gifts
Travel-related gear like tents, bedding, flashlights and sleeping bags are a good choice if you're both into camping or if you're planning a city break or a holiday to some exotic destination such as Morocco or Portugal.
Gift certificates
You can choose from a great range of gift certificates that will get you into all sorts of bookshops, restaurants and clothes shops. Always a safe option, gift certificates can even give you the chance to enjoy a night out together if you get one for your favourite restaurant or eatery.
Home and body
There are always household accessories to fall back on and plenty of these are unisex; from a new bed quilt, memory foam mattress or orthopaedic pillows to a new BBQ set – perfect for every man. If you're feeling adventurous, encourage him to experiment with moustache styles and facial grooming in general with a shaving kit. This will give him a practical gift but also encourage him to get his physical appearance up to scratch which will always be beneficial for you.