Over time, there are just some gifts that have not lost their touch, both in uniqueness, and in making someone feel special. Although there are so many gift options in the world that can be given to those we love and appreciate, a dozen roses or flowers of any kind, can never be replaced. Whether it is a flowering plant, or a bouquet of beautiful colored roses, there is nothing that can compare to it.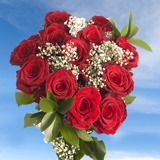 Image source globalrose.com
Below are some of the occasions that flowers play a huge part in;
Birthdays; for the birthday of your loved one or someone you appreciate, flowers are never a poor choice. There are so many ways you can send flowers to the individual. You can order the flowers and send it by speedy delivery to the house with a bottle of champagne, some chocolates, etc. or find other creative ways to give them.
Weddings; flowers for weddings have always been very popular and continue to be today. This is because; with so many flowers placed around the wedding venue, and men's boutonnieres, the bride's bouquet and those of her attendants, there is so much colour and beauty displayed, adding to the special day. flowers for weddings will always come in a variety of colors, shapes, sizes and also styles, so each wedding is very individual depending on the couple's preferences and choices. However; you need to be very selective and particular about the types of flowers you use. The possibilities are endless with decorating!
Giving flowers is so popular today because it can be an easy choice if you don't know what to get for someone. This gift definitely speaks more than words, so if you really want to show someone true affection; choose the color red and white in the best roses you can find and that will say it all!
There are so many types of flower arrangements for special occasions like for romantic dinners, valentines day, anniversaries, mother's day, get well soon, funerals, and so on available on the internet. You definitely need to do yourself a favour and Check it out now. It might be the option of your choice for the next purchase you need to make, and they're so beautiful to look at.