Flowers and sweets make great gifts. For mother day choose one of the gifts from his post.
#1. Rainbow Pic'n'Mix Hand Tied Bouquet
A beautiful aqua packed hand tied bouquet, filled with fragrant & scented spring flowers.
#2. Perfectly Pink Hand Tied Bouquet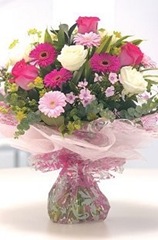 This beautiful aqua pack bouquet includes Gerbera, Roses, Phlox and complimentary foliage is a perfect choice for Mother's Day.
#3. Spathiphyllum Peace Lily
The Spathiphyllum Peace Lily is recommended Mother day present especially if your mom loves plants.
The peace lily is the perfect indoor plant as it loves low light conditions and absorbs impurities in the air such as those released by paint and cleaning fluids, and even cigarette smoke and car fumes and replaces them with pure oxygen.
Besides these beautiful flowers offer your mom 24 Luxury Hand Made Truffles.
Treat your mom with this delicious mixture of luxury truffles, handmade in Jersey's La Mare Wine Estate. An exquisite mix of white, dark and milk chocolate truffles with exciting centers in the best Belgian chocolate.
All the gift from this post can be found on Bloomingdirect.com.