Over the past few years personalised cards have found their way into main stream culture, offering you a fantastic way of customising cards to your hearts content. They offer a great gift on any birthday day, celebration or other occasion, always providing the recipient with an extra smile. And if you're looking for the ideal card for a loved one, then a personalised greeting card is ideal.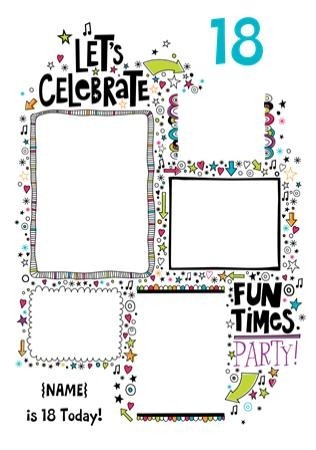 Personalised cards remain a fairly modern day concept, with the traditional cards of the past offering a large variety of options but not allowing you to change images or text yourself. This was largely due to the lack of the Internet, as it would simply be too much work and largely unaffordable for most to go into a shop and ask for a customised and bespoke card. However, the rise of the digital age has allowed many companies to offer customised cards over the internet so that they can provide a framework of text and images which you can change by altering writing and uploading your own pictures. And with transactions made efficiently and instantly, you can ensure that your changes will be applied to a real card before being sent through the post to your friend or family member.
Whilst personalised cards may have once been thought of as a little cheesy, they are quickly becoming far higher quality and well regarded than before. Card quality and the range of customisable options has increased, allowing you more choice in which card you send to your loved one and how you personalise it. Meanwhile, with the Prince of Wales and the Duchess of Cornwall even creating a personalised Christmas card to send to their family and friends, the previous untrendy image of customised cards has been to a luxurious and even royal one. To save time and money, let PsPrint print and mail your greeting cards for you.
Whether you're sending a card for a birthday, celebration, the Christmas period or even perhaps a sympathy card, the extra thought and time put into customising it will be greatly welcomed. Not everyone can come up with the witty lines and text you might see on clever cards, but even taking the time to upload a funny or compassionate photo offers the recipient the sense that you have gone out of your way to make them smile. Try and create cards which really mean something by using a story or picture which, though it might have no relevance to other people, will have great meaning between you and your loved one. A birthday card for example could include a funny picture of you and your loved one celebrating one of your favourite memories, or a sympathy card could picture your loved ones favourite flowers or perhaps even the loved one who has died alongside thoughtful text.
With the digital age providing the perfect means to customise cards, you can easily create bespoke gifts within a few click of a buttons. It is often even easier than heading out to the shops to buy a ready made card, and by adding your own spark you'll send something which has real meaning.