Personalized Wine gift ideas.
Searching the internet for the best present ideas like usual I have found a cool wine personalization site. PlazaWine.com offers a full selection of quality wines that can be personalized with your own custom label.
I liked this merchant because:
it has a large selection of wines
the wine are good quality
the site let's you personalize the label
you can use your own text for the wine label or you can use a text suggested by PlazaWine
a large selection of wine gifts
affordable prices
Here are the wine gifts that I liked:
Rustic Bean
Pamper yourself or someone special with Lavender or Strawberries & Cream. Comes with 100% Soy Candle, Dead Sea Bath Salts and Body Butter. These products are blended from the finest natural ingredients that moisturizes and nourishes the skin. Products are produced locally in Kansas City by The Rustic Bean. (In a Two Bottle Gift Box)
Hostess Delight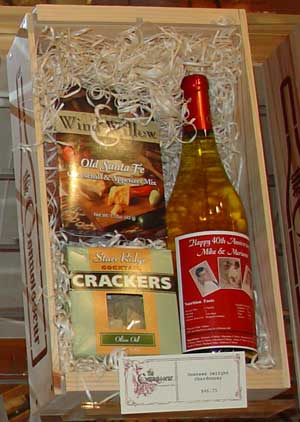 Not sure what to bring to thank the hostess? Here is an unforgettable "Thank You" gift package. Enjoy crackers and an easy-to-make appetizer cheeseball mix. (In a Two Bottle Gift Box)
Six Bottle Gift Box
The Connoisseur Six Bottle Box makes a classy gift presentation for any occasion. The Six Bottle Box comes stuffed with Excelsior. Excelsior is a wood product made of aspen fibers which nestles your beverage in the box making a great presentation.
I also like their suggestion tool for personalized labels. Here are some label text ideas that I liked:
"NAME
May The New Year
Bring Happiness To Your Heart
And Give You Many Reasons To Smile"
for engagement you can use
"Especially Selected For
The Wedding Shower Of
NAME
A Toast To The Bride To Be
May All Your Dreams Become Reality"
There are hundreds of text that you can customize to obtain the perfect personalized wine bottle for every ocassion.
So Personalized Wine is a great gift ideas for birthdays,anniversaries and special occasions like: baby arrival,engagements, Easter, Christmas, New Year, Father day, Mother's day, Thanksgiving and Valentine day.