Do you know the latest trend for animal owner gifts?
Personalized Dog tags are dog owners favorite when it comes to presents.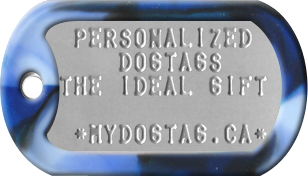 Mydogtag.ca offers custom made dogtags which can be tailored to any gift recipient: military buffs, pet lovers, boyfriends, groomsmen, paintballers, gamers… the options are only limited by your imagination and they even have an examples section if you are stuck for ideas. They won't censor your text so the only limit is the space on the dogtag. For those who like to see before buying, their website has a snazzy preview mode that gives you a really good idea of the finished product. Many silencer colors and metal connection hardware choices are avaliable, so the tags can be customized for any ocassion. These make great low-cost yet thoughful and unique gifts!