Shopping for gifts can be a challenge especially when you want to buy the perfect present. After hours of scouring through shops, you remain empty-handed and you're nowhere near to finding "the gift". All you want to do is just to sit down and rest your aching feet and forget the notion of the perfect gift. You're just about ready to toss in the towel and buy the next thing you find when you realize belatedly that your friend is a dog lover! Suddenly the choices become so much easier. If you're too exhausted to head to the nearest pet shop, here are some great gift ideas that you can purchase online.
Dog Bag Carrier
image from amazon.com
If your friend is the type to bring her dog around wherever she goes, then a dog carrier bag is perfect for her, especially if her pet is a small-sized dog like a chihuahua. To add a fashionable edge to dog-carrying, you can choose a stylish bag not only with a great design but also sturdy to boot. You can also opt to get her a colorful carrier versus the more practical black. However, black is also classy just like the Juicy Couture embroidered outdoor travel pet carrier, which looks like a handbag with gold ribbon accents.
Portable Doggie Play Pen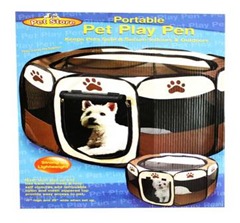 image from amazon.com
When you have a pet, it's like having a kid. You want to spend every minute with it after work. You even want to take it on playdates with other dogs owned by fellow dog lovers and friends. The portable doggie play pen is perfect for those times when you stay overnight at a friend's place. This playpen doubles as a place for you dog to sleep in during sleepovers. This is also very handy when you need to leave your pet at your parents' home for a couple of days when you leave on a short vacation. It will keep your dog from running all over the place when your parents have visitors over. This portable doggie pen comes in different sizes so make sure you choose the right size for your friend's pet should you ever choose to get her this gift.
Neato XV-21
image from neatorobotics.com
An automatic vacuum cleaner for a dog lover? This gift idea may seem a little far fetched but when you find out what this gadget can do, you'll realize that this is actually a very practical choice. The Neato XV-21 comes from a smart line of household robots that cater to very specific needs. This model in particular is one that is designed for people with pets as well as those who suffer from allergies. Aside from hard-to-remove dog hair, this vacuum cleaner takes care of dog dander, molds, pollens, spores, dust mites and even carpet fibers. A practical and useful gift, this smart machine is sure to delight your dog lover friend as it can help him or her in cleaning up after his or her pet.
Based in San Diego California, Tiffany Matthews is a professional writer with over 5 years of writing experience. She also blogs about travel, fashion, and anything under the sun at wordbaristas.com, a group blog that she shares with her good friends. In her free time, she likes to travel, read books, and watch movies. You can find her on Twitter as @TiffyCat87.