I know is July but I have been contacted by someone form the stuff of Christmas Light Source and the message was "Christmas lights are fun all year".
The phrase intrigued me so I have opened my browser and visited their site.
The first thing that I liked was the logo Santa in vacation -Santa on dressed up for the summer in a chair- (see the image below.)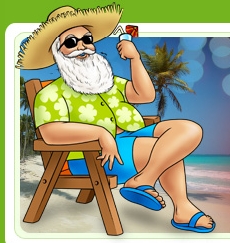 So the site was funny so I have start spying for gift ideas.
Christmas Light Source is a one-stop shopping experience for all of your decorating needs for both every day and special occasions.
Since is summer I have checked up the every day decorating lights ( I will be back to have a look and made a post about Christmas lights before the holiday).
I have liked the C7 Light Bulbs. They can be offered as present for someone who redecorates.

C7 lights work great along garden borders, rooflines and walkways.
So the bulbs can be offered to someone who:
has a garden
wants to create a special girl's room
wants colored lights in their house
Rope lights

Rope lights come in all colors, shapes, and types. Rope lights are the perfect choice for not only your Christmas decorating, but for all of your special events throughout the year.
There are several advantages to using rope lights, no matter the occasion.
Rope lights can be used on:
Wrapping pedestals and columns
Outlining stages
Floral arrangements and plants
Decorating gazebos and arches
Sign outlines (businesses)
Wrapped around trees
Lining pathways
Trade shows and exhibits
Carnivals
Store window displays, windows
Bars and nightclubs
Prom decorating
This is a Sponsored Post