Men like luxury and indulgence as much as women do. They appreciate when something feels lavish, smells delicious, or looks extravagant. The following five gift ideas will make any stylish man show his dimples.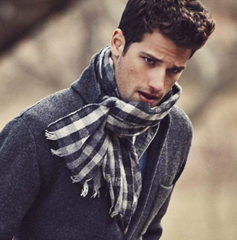 Image sent by author
Cashmere
The soft feel of cashmere is like a Persian kitten. Indulge the stylish man's delicate side with a cashmere scarf or sweater. Club Monaco makes a cashmere cardigan that's as versatile as it is luxurious. The style-conscious guy can wear it as a jacket, over a tee, or even solo. Burberry is the go-to brand for cashmere scarves. Or opt for cashmere-lined gloves like a calfskin pair from Loro Piana.
Headphones
Headphones are a fashion statement now, and the trendy man will appreciate a pair that fits his style. For a man with soul, try Ludacris's answer to Dr. Dre's headphone monopoly. The sleek black and white Soul SL300WB headphones feature cushioned noise-canceling as well as high-definition sound. If you're buying for a reserved man, opt for the Bose Quiet Comfort 20. The discrete ear buds offer Bose's trademark clear sound in addition to noise cancellation – a first for ear buds.
Shaving Accessories
Top quality shaving accessories make a necessary chore feel luxuriant. The Art of Shaving has a line of lush shaving products for the refined man. Gift-givers can choose from sharp razors, matched shaving sets that include brush and stand in addition to razor, full shaving kits, and even lavish shaving soaps. Luxury shave brushes are a particular favorite, ranging from pure brush to silvertip badger.
Accessories
Nothing makes a stylish man look more refined than opulent accessories. Cufflinks really make a man's look. Alfred Dunhill elegant coin cufflinks come in gold and opal. For pure fashion, you can't beat the Italians. Try a Salvatore Ferragamo necktie in a puckish elephant logo. Every man appreciates a pair of cool sunglasses, such as classic Ray Bans or Raf Simons aviators for the trendy guy.
Cologne
Cologne, an old standby, doesn't have to be bland. For a refined man, try Creed's Green Irish Tweed, a fresh, exquisite fragrance with notes of sandalwood and violet. A more modest but still extravagant scent is Chanel's Pour Monsieur. Alternatively, choose a cologne that announces its wonder: Byredo's Mister Marvelous, a rare scent with hints of mandarin, green lavender and black amber.
Don't be stumped about what to by the stylish man on your list this year. Indulge him with an elegant or extravagant gift and watch the smile grow on his face.
By Anica Oaks