Heirlooms are a huge part of family history and tradition — an heirloom is a link between generations. Usually a piece of jewelry passed on to one family member to another, an heirloom's value surpasses that of the monetary; its worth is measured in the years of love and memories it has seen. Kate Middleton's engagement ring is one perfect example of a beautiful heirloom. An 18-carat oval sapphire surrounded by diamonds, the ring originally belonged to Prince William's mother Diana. The late princess chose the sapphire and diamond ring for her own engagement to Prince Charles in 1981. Prince William gave Kate the ring because he wanted his mother to be a part of his life with Kate.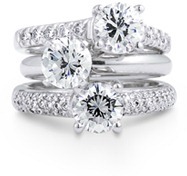 Heirlooms carry such history and meaning, so the loss of an heirloom also feels like losing a huge part of a family's life. More than just a piece of jewelry, these are symbols of family pride and resilience, and are pretty much irreplaceable. But maybe you can recapture the beauty and sentiment of a lost heirloom by having a piece fashioned in its image.
Making custom jewelry is a careful process of bringing unique jewelry designs to life. You can "resurrect" a lost heirloom through this, and you can renew the family tradition while making a whole new set of memories. This could also make a great gift for an anniversary, and you can honor decades of family ties with it as well.
Finding just the right store to recreate your special piece is important, and it's right at your fingertips. Brilliance is an online jewelry business that specializes in loose diamonds and fine gemstones, and offers custom jewelry services at reasonable and affordable prices. With each custom item made to the customer's exact specifications, you can be sure that your recreated heirloom would be a beauty.
Brilliance goes the extra mile by giving customers a 30-day money back guarantee, free shipping, and a lifetime warranty.