The Christmas is coming soon and if you want to surprise your loved ones with some Secret Santa gifts have a look at the presents ideas included in this post.
#1. For a kid you can get a cute Chatimals Hamster Toy.
This funny and adorable hamster toy repeats anything you say in a sarcastic manner. It was created for hours of endless fun.
This hamster will be a great  novelty toy for all ages. Kids adore it , but adults will play with it also.
#2. For him you can get an Inflatable Beer Bucket.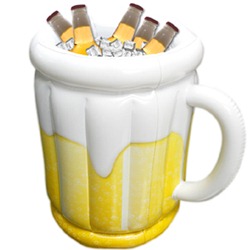 This beer cooler ice bucket will be the joy of every beer drinker. It is hilarious and it keeps the beer nice and cool.
The inflatable beer bucket is super simple to us. It just need to be filled with water and ice and it will keep the beers cold for hours.
#3. For her get a Toast And Jam Body Wash Gift Set
Women usually enjoy a good, relaxing bath so offer her something useful and fun: this toast and jab body set.
This attractive gift that contains strawberry body wash and a 'toast' shaped sponge.
This set is one of the best Christmas gifts for women of all ages.