Something Personalized
Personalized gifts will make the couple feel special and they will likely become family heirlooms. Monogrammed cloth napkins are great for the couple who enjoys entertaining. There are many companies that will make hand painted and engraved wooden plaques featuring the couple's last name and the date that they were married. Wine glasses with the couple's monogram etched on the glass would be much appreciated. Nearly anything can be personalized or monogrammed, making it easy to give a really nice thoughtful gift that the couple will enjoy for years to come.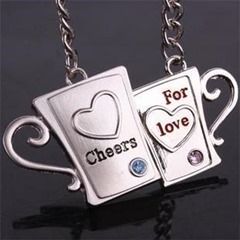 Image source aliexpress.com
Practical Household Items
It is usually best to chose household items from the couple's registry, as most people have already lived on their own and probably have all of their basic items covered. Nobody wants to end up with eight toasters. However, nearly everyone can use good quality extra blankets, bed sheet sets, bath towels and kitchen towels. Just stick with neutral colors unless you are aware of the couple's decorating scheme.
Date Night
Who would not want a gift certificate to a really nice restaurant, a couple's massage or a stay at a nice hotel? Pair a gift certificate with a bottle of champagne to make the night feel extra special. You can really get creative with this idea, especially if you are very close with the couple and know their interests well.
Stock the Bar or Wine Cellar
Unless you know the couple are not drinkers, a bottle of liquor or a nice bottle of wine from a local winery will be appreciated. If they are just setting up their household together, they will want to stock their bar for entertaining, but may not have the funds to do so yet.
Outdoor Items
We often think of getting gifts for inside the household for newlyweds, but gifts intended for use outside the house are becoming popular. Potted plants, bird feeders, garden tools, lawn games, camping gear and tents are all refreshing ideas.
Money
Giving the gift of money to newlyweds is perfectly acceptable as they can use the gift for whatever they want. Perhaps they are purchasing new furniture or other big ticket items together or they might need spending money for the honeymoon. If they have just purchased a house together and you really want your gift to go toward making their house a home, a gift card to a home improvement store will prove useful to the couple.
Author Bio
Annabelle is currently a loving and caring mother of two children. She lives outside of Milwaukee, WI and loves cheering for the Bucks and Badgers. She is a blog enthusiast and loves writing, if she is not writing she is cleaning up after her two lovely angels. She is watching lots of wedding drama shows on TV threw www.ExpertSatellite.com.