Are you looking for a special anniversary gift for your loved ones that will warm their hearts and be cherished forever? While many people go with the traditional guidelines for anniversary gifts, why not go out on a limb and be original? The following gifts are great examples of some unique gifts you can give to that special couple.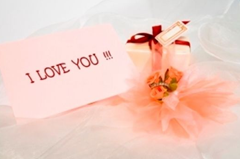 Image sent by author
Collage of Memories
An anniversary is a time for couples to reflect on all the special moments they have had in their lives. This can include such events as their wedding day, moving into a new home, bringing home a new pet and starting a family. Why not take these moments and create a sentimental photo collage? This is sure to be a cherished gift that any couple will love. Add a beautiful frame for the perfect finishing touch.
Create a "Couple's" Basket
It can be quite difficult for couples to find extra money for anything other than necessities, especially if they have children. With that said, a great gift to give your loved ones for their anniversary is a luxurious "couple's" basket. There are many things you can choose to fill your basket with including essential oils, incense, candles, wine, romantic DVDs and wholesale cosmetics.
Personalized Gifts
Most everybody loves receiving personalized gifts, and there is a vast array of items that you can personalize. Some terrific ideas include engraved anniversary plates, hand-crafted photo albums or scrap books, personalized coffee mugs, and engraved jewelry such as watches or rings. Furthermore, giving personalized gifts lets those special people know that you took the time to get them a gift that is unique to them.
Treat Them to Dinner
Unfortunately, many couples cannot always afford a romantic dinner alone. However, this is your perfect chance to treat them to a delicious meal at a restaurant of their choice. Find out where they would like to go and make some reservations for them. If you can afford it, hire a limo as well. Give them the reservations a few days ahead of time in a nice greeting card.
These are just a few great gift ideas for your loved one's anniversary. Other terrific ideas include relaxing cruises, weekend passes at a couple's retreat, reservations at an upscale hotel and tickets to a special play or ballet. Whatever you may choose though, when you take the time to choose a gift that will be special to the couple in question, it is sure to be cherished for a long time to come.
Article by Annabelle Smyth.