While ties or coffee mugs make perfectly fine gifts for Father's Day, most men probably have more than enough of those. If you want to celebrate your busy man's efforts as a dad, a good idea is to give him something that shouts enjoyment and relaxation.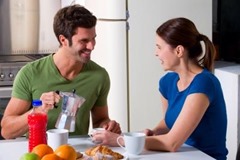 Image source: freedigitalphotos.net
A heartfelt card or a hug would be nice, but your husband would be truly thrilled if you got him something less expected. To help you out, here are non-boring Father's Day gifts your busy husband would love.
Grilling tools
Like his office, the grill is any man's personal sanctuary where mastery is key. Your hubby might not realize just how exceptional tools will help him make his grilling experience so much better. This Father's Day, upgrade his grill equipment to give him more joy out of cooking meat over an open flame. This will mean better barbecues for you and the family, too.
Gadgets
If your man already has the latest tablets, cellphones, and laptops, give him a unique gadget that he can use at home. One idea is a home-entertainment system complete with HD television, cable box, and Blu-ray player. But if that's too hard on the budget, help him manage a dozen remote controls with a universal one. Its smartphone-inspired touch screen allows you to control all your RF, IR, and Bluetooth devices from your seat.
Offer to do his chores
What tasks does your hubby have during the week? Offer to do all those for the day – or for the week if you're feeling generous. Take out the trash, pull out weeds, bring clothes to the drycleaners, check the tires. etc. You can also make a creative twist by offering coupons such as "Going home directly – no more errands," "Not taking out the trash," etc.
Something personal
Although they seldom show their emotional side, men are also sentimental beings. Giving him something unexpected and personal can make day. Aside from personalized shirts, calendars, or mugs, you can go for something unique and find anything remarkable or memorable on the day of his birth and give a gift related to that event. This will make your hubby realize how meaningful his life is.
A ticket to his favorite sport
Some say that men genuinely love only a few things, and one of them is sports. What sport does your husband like best? Is he rooting for a particular basketball team? Or does he love boxing? Give your man the time of his life by purchasing a ticket to his favorite game. Whether it's baseball, football, or hockey, he'll definitely love the gesture.
An intimate getaway
Nothing beats a well-planned surprise trip for Father's Day. Plan a romantic escape for the both of you, away from the worries of the home and office. After all, that man who lives with you – the one who's still sticking around even during the craziest moments – deserves a vacation. As early as you can, book a flight to the destination of your choice – you might get discounted air fares. Leave the kids with Grandma and off you go! He'll enjoy the peace, quiet, and romantic experience, that's for sure!
About the author: Melissa Page has over four years of professional writing experience. She blogs about relationships, travel, health, and other things that interest her. Follow her musings at her group's coffee-stained blog, Word Baristas.