We are all back to the same dilemma that we face every year during the holiday season. It's time to buy a gift for an adult friend, and yet again, we have no idea what to get. If you are looking for a fun and unique gift for a friend or colleague this season, a fun-and-games oriented Georgia inventor may have an easy solution.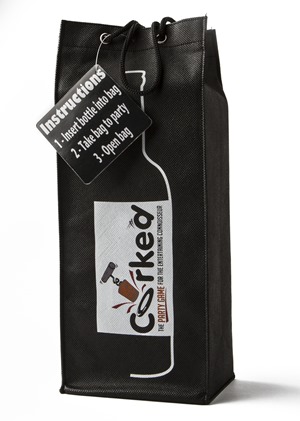 Images sent by author
It's usually a chore to buy gifts for adults on our list. We spend hours and hours wandering around retail stores and clicking around on online pages to no avail. After we get exhausted, we give up and just buy something, knowing it's not a great gift. We just want the task to be complete. Logically, we turn to home goods, products for entertaining, or food and beverage accessories when seeking an adult gift. But when your Secret Santa partner already has the serving dishes, the cutting boards, the wine aerator, wine glass charms, and latest corkscrew, what do you do? You get CORKED!
"Corked" is a brand new party game, released in October 2013. It is intended for a group of outgoing, fun people, and it's sold in a reusable wine tote bag. Simply put, it's a party in a bag. The bag contains the game itself plus an open sleeve to hold your bottle. Just drop in a bottle of wine and head to the party.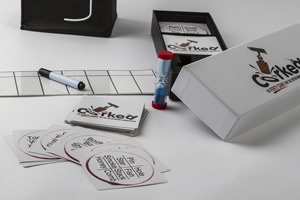 Dr. Nate Dallas has been inventing products for over a decade. His specialty is party games, and his games have been sold in over 25 countries worldwide. The idea for "Corked" came into view after watching crowds playing his other party game titles over the years. He noticed that the people who liked his games the most were adults… especially adults who were having a few drinks. "It just seemed like a great fit to pair the two together," said Dallas. "If you are taking a game and a bottle of wine to the party, why not package them together in a great looking bag? It just makes sense."
"Corked" is a game for 4-12 players. It involves teamwork and hilarious physical action and interaction. There are several unique features designed by Dallas' creative team to keep the gameplay simple and up-tempo. Every player plays on every turn, and no one ever performs alone. The game can be learned in 2 minutes, and there seems to be a different winner each time.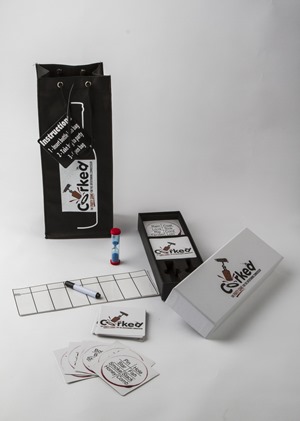 Instead of competing with hundreds of other game titles in the game aisle, Dallas plans to meet the consumer in the wine shop and the gifts boutique. After a successful Kickstarter campaign, Dallas went into full production for the wine themed game. It is now available at the company's website at www.corkedgames.com for $18.99. It can also be purchased through Amazon.com and qualifies for free shipping on the Amazon site.
By Nathan Dallas