Since popcorn lovers feel each day is a popcorn day, the national popcorn day is 19thof January. By going through this short editorial, you will find a list of popcorn gifts and by the end of this editorial; you will be pleased to know them. Online you can find a lot of popcorn supplies so you don't have to search much for this kind of gifts.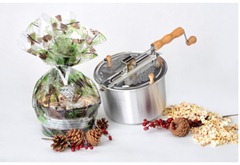 Image source popcornpopper.com
Presto PopLite Hot Air Corn Popper
These popcorns are the best choice for those who want to be healthy by lowering calories. An electronic hot air machine to prepare this popcorns rather than oil but if you want to include butter, you can just melt it.
Caramel Popcorn
This is another popular flavor of popcorn. Once the popcorn is burned, a fresh batch of caramel is spread on top. Immediately the caramel melts, a tasty side dessert or dish is ready to be gifted. Mostly you can find it in movie theaters. If your lover has sweet tooth this is the best popcorn gift.
Cheddar Popcorn
They contain very small amount of butter and salt. They are mostly prepared using cheddar cheese. So far, cheddar is the well-known popcorn cheese topping though there is another type called white cheddar.
4 Seasoning Popcorn Sampler Pack
These include creamy ranch, jalapeno, buttery herb, movie theater style. You can have this as one of the popcorn gifts for your lover.
7-Piece Popcorn Set-This 7-piece popcorn set is good for movie night or like a gift for a popcorn loving family.
Butter Popcorn-Butter popcorn is prepared using batter and salt.
Wild spice popcorn-These are usually spicy. If your lover loves spicy snacks and foods, this is the best gift.
Arrowhead Mills organic Yellow Popcorn-It is a USDA certified organic popcorn and it tastes great.
You can either gift popcorn in a basket or packets. You can wrap it in a satin fabric prior to placing it in a basket or box. This is just adding a touch of elegance. You can also pack popped popcorns in a decorative fabric pouch or else a colorful plastic container.