Forget about the boring Christmas cards! This holiday season send the Christmas Greeting that is as personal as a Christmas card and as easy as a text message. Surprise friends & family everywhere with themed voice messages delivered through voicemail, Twitter and Facebook. And this is not all: Christmas Greeting is available for free.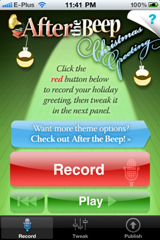 After the Beep
After the Beep! is the first iPhone app that lets you weave your own voice into variety of fun themes.
This cool iPhone application lets you record a voice message, then easily customize it by mixing and matching 15 background holiday tunes, 11 locations (like Santa's Slay, Christmas Party and Heaven) and 17 greeting wrappers.
How to get it
Christmas Greeting — After the Beep! is available for free. You can download it from here.