Your dinner date can be in a fancy restaurant or your cosy dining room. On Valentine's Day, the surest way to let the love hormone ooze is to have a glass of great wine. You know that wine and romance go hand in hand, but choosing and pairing with the meal might not be very easy. Moreover, you will have to find the best gift, and get ready too. So here we bring a list of ten superb wines that could make the occasion more memorable:
Le Fraghe Bardolino
It is the red wine from the hills of Northeast Italy and has flavours of cherries, blueberries, and herbs. It has a delicate balance of acidity with small quantities of orange peel, cinnamon, and black pepper. It is easy to drink and goes well with a range of dishes. The rich and velvety texture and the deep red hue make it the perfect drink on Valentine's day. It can surely help you relax and unwind from the bottom of the heart. 
Cloudy Bay Sauvignon Blanc
A white wine from Marlborough, New Zealand has an abundance of passion-fruit, lime, and grapefruit. It is an herbaceous, and unlike its French companion, this wine from the Kiwi-land has a sugary texture. The lite minerals and the fresh aroma of fruits leave a pleasant aftertaste. You can pair it with seafood, poultry, and all Pan Asian dishes. You can have it chilled or even ice cold. At higher temperatures, it becomes more intense.
Black-box chardonnay-California 2016
Chardonnay is the most popular white wine in the world. This variety of grapes grows all over the world. It originated in Burgundy, France. The wine comes in many styles. You have both dry and sweet dessert wines. The Black Box Chardonnay wine has aromas of citrus, mango, and pineapple along with that of the ripened green grapes. As a boxed wine, the package is recyclable, and the wine stays fresh up to a month. It is portable and comes in various quantities. You can pack it for a picnic and even for short vacations. The best is it goes well with a variety of dishes like pizzas, rice, etc.
Loveblock Pinot Noir
The wine tastes as lovely as its name, and Pinot Noir is also the healthiest of all red wines. This wine from Central Otago, New Zealand, is fruitier when compared to the Red Burgundy from France. It also has flavours of herbs like thyme and rosemary. It has been winning awards consistently and can be paired with a range of foods like fish, chicken, pasta dishes, and stews.
Weller bourbon
Bourbon barrel-aged wines have existed since the 1980s. These aged wines have boosted and rich flavour when compared to the freshly prepared ones. Weller bourbon wines are aged in 100% American oak barrels and thus have a charred aroma. The winemakers add a multitude of flavours that include caramel, maple, vanilla, and brown sugar.
Gruet Brut
Considered as America's best sparkling wine, this wine from New Mexico is a favorite choice among masses. It is a brilliant wine with fine bubbles and offers clean and crisp acidity with aromas of green apple and citrus fruits. The yeast-fermented wine is tired for twenty-four months and, thus, has a long toasty finish. It comes at a price rate of $16 a bottle and is popular in restaurants and retail shops. 
Montes Cherub Rose
Rose symbolizes love, and this wine with beautiful pink coloured wine could give the florist a competition. It has the best aroma of fresh rose petals, and its' crystalline delicate texture could melt hearts with ease. Made from the Rose of Syrah, a grape variety from Chile and coupled with fruits like raspberries, strawberries, and pomegranates, the wine is seductive and elegant. You can pair it with a variety of dishes like salmon, pasta, lasagna, etc.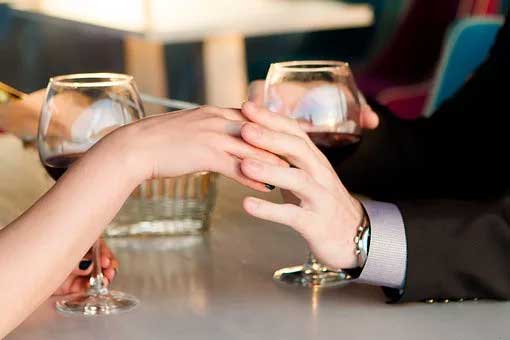 Ramey Chardonnay wines
One of the world's outstanding chardonnays, this wine has a great silky texture and minerality. It comes with a lot of varieties and can have aromas of butterscotch, roasted pineapple, ripe banana, lemon oil, toasted oak, nutmeg, hazelnut, and ginger. As the amount of oak used is little, the wine has the freshness and fruity.
Pacific Rim Sweet Riesling
Pale gold coloured wine from Columbia Valley, United States, is sweet and smooth. It is low in alcohol and has a decent amount of acidity. It has flavours of pineapple, peach, and you get tastes of honey, apricot, etc.as you drink. You can have it as a dessert drink and also pair it with spicy Thai and Carribean cuisine.
Champagne Delamotte Brut Rose 
It is a light coral coloured wine and has a fragrance of strawberries and honey. It has soft minerals and tastes like bread dough and French butter. The tangerine acidity stays long after you finish. You can have it as a simple drink or pair it with your desserts.
The aphrodisiac nature of the wine makes it the perfect drink on Valentine's day. Red and rose wines top the chart, and while the sparkling, bubbly wines usher in a mood of celebration. Rather than deciding it alone, you and your partner can choose it together to enhance the sentiment levels.
By Rebecca Siggers