The top 3 tablets for geeks gifts are:
#1. iPad 2 Wi-Fi 64GB White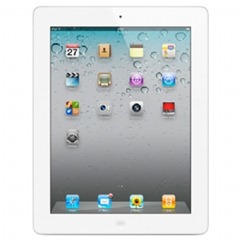 iPad 1 was a huge success and the second version is thinner, lighter and faster. iPad 2 Wi-Fi 64GB is even more powerful with the dual-core A5 chip, yet has the same 10 hours of battery life. With two cameras, you can make FaceTime video calls, record HD video and put a twist on your snapshots in Photo Booth. And the iPad Smart Cover  attaches magnetically and wakes up, stands up and brightens up your iPad 2. The 64 GB integrated hard drive allows you to enjoy books, movies and music.
iPad 2 Wi-Fi 64GB main features are:
Two cameras. And a big hello to FaceTime for iPad.
LED-backlit display
Multi-Touch. Everything's at your fingertips
iOS 4. The world's most advanced mobile operating system
Gyro, accelerometer and compass
#2. Acer Iconia A500 Tablet PC
The Acer Iconia A500 Tablet PC is one of the most loved tablets by Android fans. Many people don't like the fact that Apple products come with some limitations (the lack of flash support for example) and this is why they prefer Iconia.
Acer Iconia A500 Tablet PC main features:
nVidia Tegra 250 Dual Core
1 GB RAM / 32GB eMMC
10.1"TFT WXGA (1280 x 800 resolution) LED Dual Touchscreen
Android (Honeycomb) 3.0
#3. Samsung Galaxy Tab P1000
The Samsung Galaxy Tab P1000 is loved by Samsung gadget users and also a lot of women prefer this tablet because it is light, small an fits in a purse perfectly.
Samsung Galaxy Tab P1000 main features:
Unlimited access to web-browsing with Flash 10.1 support
A one stop, Readers Hub for books, magazines, and news
Communicate face-to-face with the entire team
A cartographer's masterpiece
Social Hub integrates your E-mail, IM, and SMS
More of the information you need
What tablet PC to choose?
There is no easy answer. It depends on personal preferences. Like the old questions which is the best operating system Windows or Linux? the answer is the one you know how to get maximum from.
Being enthusiast about a tablet PC is a matter of knowing how to operate it. It is frustrating to have a cool gadget and not knowing how to play with it.
So if you want to offer a table PC as a gift look at the gadgets the receiver has. Usually Apple fans love the iPad, the people who like the Android choose Acer Iconia A500 and the ones accustom with Samsung devices opt for Galaxy Tab P1000.