Hosting and organizing a children's party could be a little tricky. It would seem like you are preparing for little tots you couldn't care less about what's going on in the event. But the truth is, children are individuals who could be very picky. Trying to please them all and knowing exactly how to avoid a series of tantrums might be your greatest challenge. Lessen your stress by making sure you're ready with one of the most anticipated features in a party—the giveaways! Here are some unique items to give away to make those little guests smile.
Cool Shades
Boys and girls sporting cool sunglasses on their tiny faces, how adorable is that? Explore other fun yet useful items like kids' shades. Choose ones that have colorful and bright designs, something that will surely attract the little ones. A pair of sunglasses is something that they can use to accessorize their daily outfits. Perform a simple labor of love by tying a tag on each giveaway, indicating the event, the date, and even a warm appreciation line like, "Thank you for celebrating a sunshiny day with me."
Pillows
Experiment on bigger items and get the cuties something that's also a cutie, like a pillow! Pillows for kids come in different sizes and colors, so pick something that would match the theme and the personality of the birthday celebrant or the event. You can also customize them by having them printed with the event date and details.
Piggy Bank
Yes, this could be a nice item too. Not only are they cute, they also encourage the kids to save up for the rainy days, the parents will surely appreciate it. Piggy banks no longer come in piggy designs these days. So unless the party theme is farm friends, scout for some other coin bank designs. You can actually find princess or superhero themed, or others that would fit the party motif.
Images sent by author
Customized Pens
Just as company events and workshops often give away customized and promotional pens as memorabilia, you can also opt to customize pens for your child's birthday. Purchase them in bulk to save on the expenses. You can have the guest's name engraved or simply printed on one side of the pen and the date and event on the other side. Colorful personalized pens will surely be a hit among the children, and maybe the parents too.
Homemade Goodies
Skip on the candies this year and try something that you can experiment better with packaging. Homemade goodies like cookies or muffins can be enjoyed by both young and adult guests. Plus, they can be playfully decorated with bright boxes and paper bag or jars tied with colorful ribbons. From polka dots to glitters, feel free to incorporate the design with the overall party theme. Make sure to include a sticker or tag on the packaging for the event details.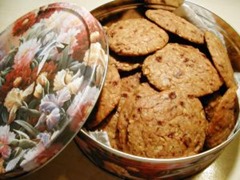 Amanda Smith is a blogger based in San Diego, California. She loves writing about technology and gadgets, travel and arts, health and wellness, and just about anything that tickles her fancy. When she's not writing, she's busy catching up on her favorite sitcoms with her yellow Labrador, Chandler Tribbiani. You can catch more of her works at her gang's hangout, wordbaristas.com.