Today you will find 2 great toys: one for girls and one for boys.
#1. Little Cottage Doll's House
This sweet, wooden house includes dolls as well as furniture, so it's a fantastic value first Doll's House for little girls – and with those pretty, candy colours throughout it won't disappoint in the looks department either. Beautifully designed to allow easy access for your child's hands; includes all illustrated furniture, boy figure and girl figure.
Measures 40.5cmH x 40cmW x 27cmD. 3yrs+.
#2. Eitech Remote Control Monster Truck Kit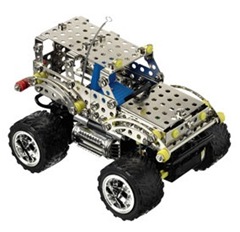 Encourage their creativity and technological awareness with this amazing metal construction kit from Eitech: it includes over 250 pieces to build a fantastic, remote controlled vehicle or a unique model of your child's own design, as well as colour instruction manual and all tools, 4 rechargeable batteries, a 9V battery and battery charger.
Designed and made in Germany; all components compatible with other sets. Built Monster Truck measures 12.5cmH x 13.5cmW x18cmL.