Gifts for teenage girls can be some of the hardest gifts to buy, since most teenage girls have very distinct tastes and personalities. So, although there might not be one gift that is perfect for all teenage girls, here are a few ideas to get you started in the right direction.
1. A compact digital camera is a great idea for a teenage girl, so she can document all the fun times and exciting adventures she's having. Small cameras work the best so she can carry it around in her purse. One of the best compact cameras on the market right now is the Canon PowerShot. A camera is also a practical gift and she'll be able to use it for years to come.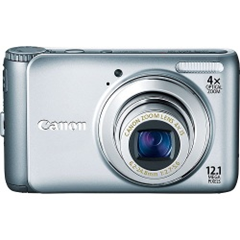 2. Teenage girls like to personalize their space, so decorations that reflect their personality are always a great gift. Things like strings of funky lights, removable wall frames, and movie posters are good places to get started. Get an idea of her personality so you can decide exactly what style of decorations she would appreciate, but most teenage girls like having a place that feels as unique as they are.
3. For the bookworm, Penguin Classics has released works of classic literature in gorgeous new books, seen here. Introduce her to beloved classic literature by getting a beautiful copy of one of your favorites or a book that suits her personality and tastes. This is a gift she'll be sure to treasure.
4. A panini maker is a fabulous gift idea for a teenage girl. Paninis and grilled sandwiches are really yummy and with a panini maker, they're incredibly simple to make. Besides, she'll probably be heading to college soon, so it's a practical gift that she'll be able to use for years. There are several panini and sandwich makers on the market, but you can get them for around 25-30 dollars at Walmart or Target. Of course, there are more expensive ones at specialty kitchen stores like Williams-Sonoma.
5. Every teenage girl likes to be stylish! Get her warm winter fashions to keep her toasty and trendy. A good place to start would be a cosy scarf with a unique texture or fun pattern. Fingerless gloves are also fun and stylish. Pair gloves with festive nail polish colors with sparkle and shine, and she'll be dressed perfectly for the winter season. Shops like Forever 21, H&M, and Delia's are great places to get started and usually these stores have really great deals.
Diane Johnson primarily writes about online education,pell grants and anything else that interests her. She enjoys traveling, reading, sledding, and sports.