Fashion is a fun if not ephemeral thing – it is constantly changing, adapting and evolving and giving us new ways to create our own personal style. But my favourite aspect of fashion is that we can look back to the past too.
In actual fact, retro is very 'in' right now, but as is often the case, there are plenty of new twist that you can play with to add you own contemporary style to any retro clothing item.
What is a modern gal to do then? How can you go retro but without sacrificing your modern style? Well that's what this post is all about: how to introduce a little bit of retro and have some fun experimenting with all the possible style combos that come with it.
What is Retro?
So, if you are ready, shall we take a look back and find out about some of the funky and cure retro options that are open to us?
Retro Hair Styling
I'll start from the top… no retro look is right if you don't get the hair right. 50's is my personal pick of the bunch. I just the classic 50's side parting.
Thick waves are also a great option if you can. Well kept, neat hair is the order of the day, so this is a look that really demands some effort… Totally worth it though. I would suggest a good set of curlers or rollers if you want to do it right.
The Shoes
And down to the bottom! Now I always love to talk about shoes anyway, so what better excuse?
Now if 50's is your look of choice then stilettos are an option to consider, stilettos were both metaphorically and literally huge in the 50's! The aim is to draw attention to your legs and emphasize the short skirts and dresses which were also popular at the time.
Your retro shoes should not be overstated, pretty but low quay. Details such as bows are always good.
Retro Clothing
Again I am going to stick with the 50's here, and this is perhaps the best bit; pola-dot dresses! Bright colors and fancy free designs are the best bit about 50's fashion. Get some flowery dresses and you're good to go.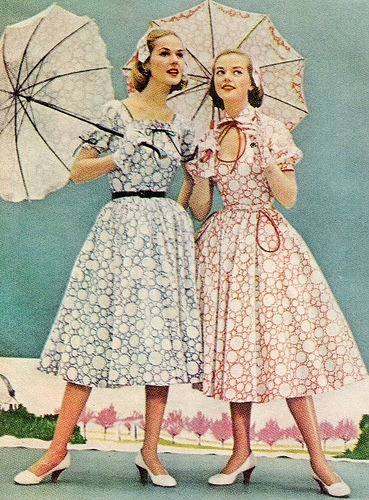 The underwear
Well, as much as I'd love to talk about some nice retro lingerie, this is probably a part of your ensamble that you can keep nice and modern. Designer underwear wasn't as popular then as it is now… But hey, why not mix old with new and match your retro outfits with some fun modern underwear?
This guest post was written by Alex from lingeriebrands.We specialise in offering fashionable womens underwear and lingerie.