I recently  got an email from Ann who was telling me she is excited that she found a unique gift which solved her problem with the cold when attending sporting events. The product is called Coat Cushion and I asked Ann to send me a short guest post with her experience using this product.
You can read her story below.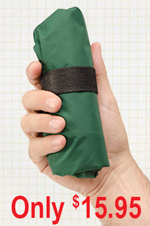 There are so many gifts out there, so to find one that is truly unique is remarkable. It's called Coat Cushion, and it's name tells you exactly what it does. It uses my coat as the padding inside a seat cushion.
I live just outside Portland, Oregon and a local company began producing it. My son is the one who heard about it, and because I complained about the hard seats at his basketball games, decided to tell me. The product solved I problem I didn't even know I had.
Winter in Oregon is cold and rainy and I regularly go to the local high school to see my son's games. It's a typical gymnasium, with those long, wooden benches, and I would stick my coat in any open space. Sometimes I'd put my coat down near my feet when it was crowded, and sometimes the coat was wet, which made it uncomfortable. With Coat Cushion I now sit in comfort at the games, and the cushion keeps the dampness from the coat from getting on my dry clothes.
The product is reasonably priced at $15.95, and comes with instructions on how to best fold your coat. Which is an important thing to know, because the better it's folded inside the more comfortable the cushion.
I have never seen another solution for the problem of sitting with a wet, winter coat. Coat Cushion is a great gift for any basketball Mom on your list.
Ann Gramm
Portland, Oregon