Shopping for a birthday gift for a teenage boy can be especially difficult. It's hard to read young men and you may only have a slight idea of what they're interested in. Luckily, getting them the perfect gift is not as hard as you think. Before going shopping, try to figure out what the birthday boy's hobbies are. Perhaps he's really into video games or maybe he enjoys the great outdoors and hunting. Whether you're shopping for your teenage son, brother, nephew, friend or other member of your family, these top five birthday gifts are sure to leave a lasting impression for your loved one.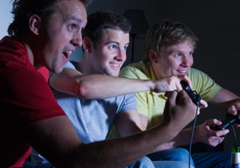 Image sent by author
MP3 Players and Accessories
Many boys live off of music and consider it a huge part of their everyday life. An iPod makes an excellent birthday present. Whether you are interested in spending a lot or a little, there are many different models of the iPod such as the affordable Shuffle. Other great choices include accessories that can be used with MP3 players such as headphones, ear buds and speaker systems.
Skateboards
If the birthday boy enjoys sports and staying active, a skateboard is the perfect gift option for him. There are many different brands of skateboards out there that can be completely customized with decks, wheels, bearings, stickers and more. Some top deck brands that you may opt for include Element, Zero and Alien Workshop.
Outdoor Gear
Any teenager who is into spending time outdoors is sure to appreciate a cool hunting knife, a tent, or a gun to go hunting with. Make sure you find out what they don't have or what they don't need, and get them that item. If they already have a Gerber knife, consider getting them a fun knife holster. If they have a gun, consider getting them a scope to use while hunting with their dads. Just do your research for whoever you are buying the gift for.
Video Games and Consoles
One thing that most teenage boys have in common is their love for video games. If you already know what type of video game console he has at home, you may consider purchasing him a game or two for it. Some of the latest top video games include Halo 4 and Just Dance 4. If looking to splurge, consider purchasing a newer video game console such as the PlayStation Vita or Nintendo Wii U.
Dart Boards
All teenage boys will love having a dart board to hang in their room and practice their trowing skills with. Real darts can be dangerous for younger teenagers, so there are also safer dart boards options that will still provide hours of entertainment.
This article was written by Dixie Somers. Dixie is a freelance writer and blogger who gets her inspiration from her three beautiful daughters and her wonderful husband.