The Yuletide season is in the air once again as millions of people prepare for the Holidays this year around the world. Christmas is just around the corner, and as early as November, most of us are already thinking of some awesome gift ideas for our loved ones and friends. Of course, this occasion won't be complete without the gift-giving that normally takes place during Christmas Eve.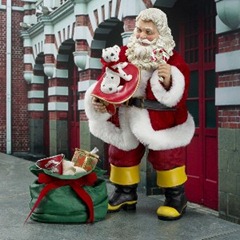 When it comes to giving presents, it's a known fact that looking for gift ideas for women is as easy as picking apples. Since most of us (men and women alike) are too familiar with what girls really want, coming up with great gift ideas is extremely simple. How about some gift ideas for him –for your dad, husband, brother, boyfriend or even grandpa perhaps?
Fulfilling every man's desires is plain and simple too. In fact, thinking of something to give him this Christmas is a walk in the park given that there are so many cool items out in the market today. Not just the ordinary stuff, but the best out there! Just like young schoolboys, men adore gadgets and other plush toys and collector's items.
There are quite a lot of exceptional Christmas gift ideas for him – actually they are countless. Now here's a list of some of the best Christmas gifts ideas for men this 2012:
300-Piece Poker Chip Set – This one will surely put a smile on every poker enthusiast's face. This 300-piece poker chip set comes with a guide to the game for beginners, a durable metal case, and two sets of playing cards. This is for veteran and novice players alike. Feeling like an expert poker player in Las Vegas casino sounds like a lot of fun!
G-shock Watches – Not too pricey but totally stylish and classy. These watches are collectors' item and often donned by famous celebs. With a variety of cool and limited models, this item is for the outgoing men who values time and sense of fashion.
Soul SL300WB Headphones – You think Dr. Dre's Beats are too mainstream nowadays? Now say hello to Ludacris' brainchild… The Soul headphones! Though the features and qualities are almost parallel with Beats, the Soul's stylish and unique physical design separates itself from the rest. This would make a perfect gift for your brother or boyfriend.
Jordan Retro Sneakers – Perhaps the supreme and legendary line of sneakers named after the greatest basketball player of all time, Michael Jordan, is an exceptional gift idea for him, particularly for the hoops junkies and sneakerheads. The Jordan Retro models are the most sought-after sneakers today. So just getting a pair of these today would mean a lot. Just be sure to get enough energy and patience when falling in a very long line with other hopefuls.
Canon Digital SLR Camera – This 8.2 megapixel digital SLR camera is perfect for amateurs who are determined to learn basic photography. This kind of gift is sure to give him a picture perfect smile this Christmas.
iPad Mini – One of the latest toys Apple has unveiled this year. A compact version of the iPad packed with all the latest Apple features and apps. Either Apple haters or Android lovers will surely fall in love with this little darling.
Halo 4 – Giving him one of the bestselling videogames in history of gaming is definitely a great delight. This game features new weapons, characters, vehicles, and maps that he will really take pleasure in. Hail to the Master Chief indeed!
Sony Digital Binoculars – Here's another cool gadget that would really drive him crazy, in a good way of course. This is the first-ever fully digital, 3D, high-def-recording binoculars. Start recording the equal view in 1080p high-def and 3D with a push of the button. You can also regulate the image and focus instantly.
Wilson Golf Clubs – A set of extremely top quality clubs has always been an excellent gift choice for men who love to spend the weekend out on the golf course. Clearly, the man of the house and the old folks will love this one.
Time History's Greatest Images – Men has always been fascinated with interesting things around them, such as history and pop culture to name a few. Let him have the opportunity to enjoy unforgettable moments through extraordinary photographs with TIME History's Greatest Images.
Remote Control Container – Never again you would hear your husband or dad yell the words, "Where's my remote control?!" This handy little storage will hold and organize all the remote controls and other important things for his convenience.
American Standard Stratocaster by Fender– It will be great if you encourage him to be interested in music. But it's better if you give this real American original rhythm-shredding machine to someone who really loves to rock and roll and has the passion for music given that this musical instrument is something extremely special. Just ask Jimi Hendrix and Eric Clapton.
Chivas Regal 12 – How about pouring a rare and exquisite brand of whiskey on his glass this Christmas? Aged and made in Scotland's oldest distillery, this limited blended whiskey is the perfect gift to keep the spirit warm every winter season.
Author bio
Chuck Smith runs a small crafts business that offers a variety of unique gift ideas and home decors. He's also into retail business and events management and at present works as the marketing manager at www.jafgifts.com.