Finally it is the time for some men present ideas. I have found some luxury designer cufflinks.
All ARMREVOLUTION designs are made with the finest Japanese stainless steel or gold. Each pair has an ID number that gives access to exclusive events of the MOVEMENT.
Here are the models I like the most:
#1. Gold cufflinks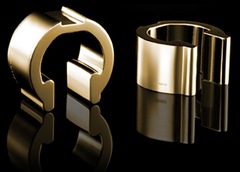 The cufflinks come in 18 carat white and yellow gold. This is a personalized gift because initials can be engraved on these luxury cufflinks.
#2. ARMREVOLUTION Design 16
Stylish design, sharp edges, innovative clasp mechanism with removable ends. #16 is the latest design of the Perpetual Series.
#3. ARMREVOLUTION Design 10
Made from the finest Japanese Stainless Steel. ARMREVOLUTION Design 10 has a perfect Masculine look and feel.
The cufflinks come in a beautiful magnetised acrylic box as you can see in the image below.
The magnetised acrylic box completes a truly magnificent presentation of the cufflinks as a gift.